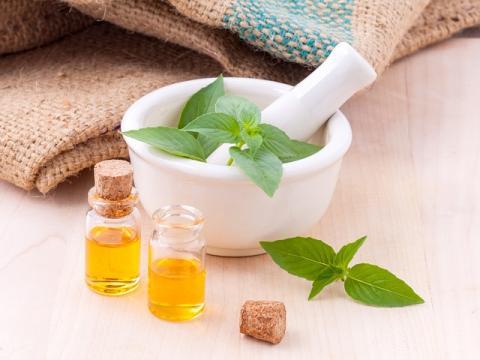 Most of us already know natural solutions are better for the environment. They're also better for your skin than most commercial products, and much less expensive. However, not all skin is created equal. Depending on your unique skin type, you'll want to reach for a different natural solution. Here, we break down some common skin issues and the ingredients that help combat them.
Breakouts: Honey
Honey is sticky, sweet, and seems like the last thing you should put on a zit. But it has natural antibacterial and moisturizing properties that are just the thing to clear up acne without drying your skin out. Since you don't want a sticky face all day long, use honey as a 20-minute facial mask or to spot-treat zits overnight.
Oily skin: Shea butter
Although it can seem counterintuitive, oily skin actually needs a lot of moisture, especially during dry winter months. If you skimp on moisturizing, the oil overproduction will kick into high gear, exacerbating shininess and clogged pores. Fortunately, a little bit of Shea butter goes a long way to help combat oiliness and blemishes. Use instead of or in addition to your regular moisturizer.
Dry skin: Jojoba oil
Jojoba oil can be too intense for oily skin, but if you have normal to dry skin, it makes a great daily moisturizer for dry winter weather all year round. Start with a few drops after cleansing and add more as needed throughout the day.
Extra dry skin: Avocado
With winter comes chapped skin and dryness, even for those of us who aren't usually prone to it. If you tend to naturally lack moisture anyway, the problem can be much worse this time of year. Use mashed avocado as a weekly facemask to add some emergency hydration. If you have combination skin (oily in places and dry in others), add honey to combat oil and blemishes without reducing the moisturizing properties.
Acne: Witch hazel
For consistent acne that goes beyond the occasional breakout, use witch hazel regularly to clear and calm your skin. After washing your face, apply a thin layer and let it dry before moisturizing. For more potency, you may want to add a couple drops of tea tree oil, but this can be drying, so use sparingly.
Clogged pores: Cinnamon
For a stronger dose of pore cleansing and acne prevention, cinnamon helps kill the bacteria that clog pores and cause zits. Mix cinnamon and honey to a paste-like consistency for a super-effective facial treatment that can be applied all over or just on problem areas. Cinnamon can irritate the skin, so use it no more than once or twice a week with honey or other moisturizing ingredients to balance it out.
Dull skin: Sea salt
Regular exfoliation is key to keeping your face looking bright and fresh. However, commercial exfoliators often contain ingredients that are too abrasive, like walnut shells, or that are harmful to the environment, like plastic microbeads. Save your skin and the environment by using sea salt and your favorite natural oil. If you don't have sea salt, sugar will work as well. Rub the mixture gently over your face using a circular motion.
Spots and scars: Lemon juice
Lemon juice can help fade marks left behind by zits, sun exposure, and other skin hazards. Use lemon juice as a mask for 20 minutes (you can combine it with other ingredients listed here, depending on what skin concerns you may have) or apply it just to your blemishes and problem areas. Avoid leaving it on too long or using it every day, as it can be drying.
Under eye bags: Green tea
For puffy eyes, bags under the eyes, or dark eye circles, green tea works wonders. The caffeine helps reduce swelling and inflammation, while green tea's antioxidants keep the delicate skin healthy. Steep two tea bags, allow to cool, and then place them on the under eye area for a few minutes. To reduce puffiness even more efficiently, refrigerate the steeped tea bags before applying.
Makeup removal: Coconut oil
Although any natural oil will work to remove makeup (yes, even waterproof mascara!) coconut oil's solid consistency at room temperature makes it easy to work with. Use your fingers or a soft cloth to apply it and gently wipe away makeup before washing your face. If your makeup is extra stubborn, dab the oil on it and let it sit for a few minutes to break down makeup before washing it off.