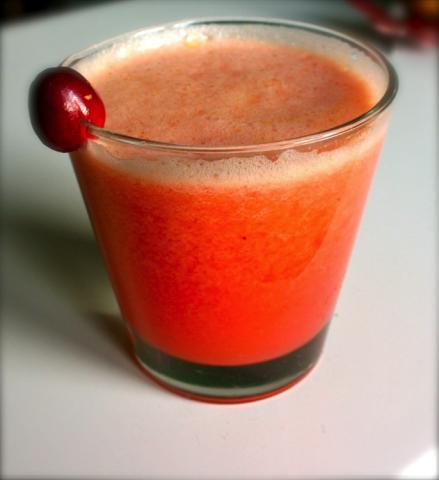 Got a bad gut and need some help digesting your food? This tonic should help: It's specifically designed to work with fall bounty too, so make it before the season is over! I recommend using it whenever you feel you've eaten too much food, or have an upset stomach. That said, you can also drink it as often as you like to promote good gut health on a regular basis. Cranberries are known for aiding in digestion, lowering wrinkle-causing inflammation, and even preventing urinary tract infections. In other words, your tummy won't be the only one thanking you for drinking this tonic: your skin and bladder will too. Cheers to anti-aging skin and happy organs!
Ingredients:
1 cup raw cranberries
Half a peeled and seeded orange
1 cup water
A generous shake of cinnamon
Directions:
After washing off the cranberries, add all the ingredients to a blender. Blend until completely smooth.
You're probably going to have to strain this mixture, unless you don't mind pieces of pulp and cranberry in your tonic. I like mine to taste very liquidy, which doesn't take away from its nutritional value at all. To remove any unwanted bits, take a sifter and hold it securely over your desired cup. Pour the liquid into the sifter just a little, stop, then gently shake the sifter so the liquid gets into the cup. Make sure you're holding onto both your cup and sifter securely when you give the sifter a shake. This can take a while, and may get a little messy, but it will definitely make your drink pulp-free (a must for me).