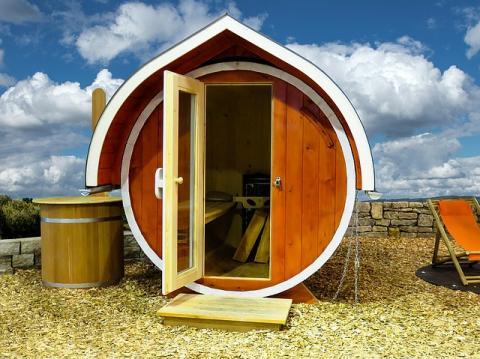 Last fall, at the Global Wellness Summit (GWS) in Austria, more than 500 wellness experts from 46 countries gathered to discuss the direction of wellness programming in 2017 and beyond. From that, GWS researchers put together a 50-page report that highlights these seven wellness trends expected to take off this year.
Reinventing the Sauna
Wellness experts are thinking outside the box (so to speak) when it comes to saunas. In Europe, the Sauna Aufguss (German for "infusion"), a theatrical ritual performed in the sauna, continues to gain in popularity, while "hangout" saunas are also becoming mainstream with DJs spinning beats inside these hot boxes. Pop-up saunas on lakes or hanging from bridges are also becoming more common.
Wellness Architecture
Architects are putting a major emphasis on buildings that improve the health of human beings. "Living" buildings that produce their own energy and even phone apps that alert you when you're entering a "sick" building will only continue to define the future of architecture.
Silence
As the need to be connected continues to grow, wellness destinations are embracing true silence. Case in point: The world's first completely "silent spa" opened at Therme Laa Hotel in Austria. Wellness monasteries are also on the rise, as people are searching for retreats that offer silence and reflection.
Art & Creativity Infused with Wellness
Art, music, literature and dance are being incorporated into wellness experiences. At Germany's Schloss Elmau spa resort, for instance, musicians and writers "play-to-stay," which means the property has about 200-plus concerts a year for resort guests. The new Gainsborough Bath Spa Hotel in the U.K. similarly offers live classical violin playing as guests enter the baths. Live music is also being incorporated into yoga programs and other fitness activities.
Focusing on Inner Beauty
The beauty industry is seeing a major shift as it repositions its focus on inner beauty and authenticity. Eatable and drinkable beauty enhancers and clean, organic cosmetics and advanced medical research will only continue to redefine this $1 trillion industry.
Taking Mental Wellness Seriously
By 2030, depression will be the world's number one health issue, outranking obesity. Mindful approaches to wellness such as meditation or part-mind/part-body workouts will continue to transform the way people approach wellness.
Giving Wellness Back
The wellness industry has quickly become associated with the rich elite who spend $300 on yoga pants and even more on retreats. However, more wellness organizations such as Yoga Gives Back, which gives profits to help poor women and children in India, are offering wellness benefits. Wellness Tourism 2.0 will redevelop the wellness model by creating a comprehensive wellness vision that helps both locals and tourists in various communities.