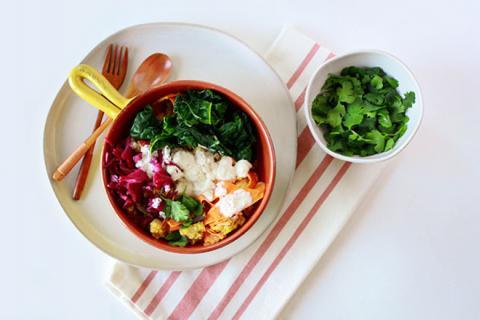 As fall progresses into winter and the earth cools, we increasingly crave warm, comforting foods. Seasoned with traditional Ayurvedic warming spices, this vegan kitchari has a depth of flavor that will keep you coming back again and again. With the holiday season ramping up, you'll appreciate that it cooks quickly. Plus, it's rich in plant-based nutrients that will give you the energy to dance through the holiday festivities with your health intact.
What is Kitchari (or Kichadi or Khichdi)?
Kitchari, sometimes spelled kichadi or khichdi, is a traditional South Asian dish renowned for being both fortifying and gentle on the digestive system. Often described as comfort in a bowl, kitchari is commonly given to babies, the elderly, and the infirm. There are countless kitchari recipes with different spices and vegetables, but they're always made with dahl (lentils) and rice. Cooked together, dahl and rice make a complete, predigested protein.
In Ayurveda, kitchari is thought to assist in spiritual growth, and often prescribed during a fast. In those instances, the gentlest version, made with yellow mung dahl and white, long grain rice, is eaten exclusively over the course of several days. This monodiet allows the digestive tract to rest deeply and encourages the body to detoxify.
Despite its curative uses, kitchari isn't just for fasting or challenged tummies. I created this recipe as a seasonal cold weather meal for anyone craving something warming, flavorful, and satisfying. That said, although this kitchari is nutritious, I don't consider it therapeutic. If you're ill, modify the recipe by using white rice and only steamed vegetables, and leave out the cashew crème fraîche.
How To Make An Outstanding Kitchari Bowl
Kitchari is a remarkably simple, forgiving dish. So simple, in fact, that you'll spend less time learning how to make it and much more time dreaming up all the delicious things you'd like to try adding to it. The first time I made it, I was surprised by the thick, porridge-like texture, but this is, generally speaking, part of the dish's appeal. The word kitchari literally means "mixture" or "mess" in Hindi. There are kitchari recipes that amount to a more distinguishable texture, but this is optional. In order to add appeal I top mine with cashew crème fraîche (recipe below borrowed from Gaz Oakley) and fresh chopped coriander. Just remember, coriander is a cooling herb, so you might use it sparingly in the fall/winter. You can also add sesame seeds, avocado, and fermented vegetables (as pictured above), or, if you're not vegan, a poached egg. With so many delicious possibilities, you'll understand why this humble dish has stood the test of time. 
Spiced Kitchari Bowl with Cashew Crème Fraîche (Yellow Dahl With Rice) (Vegan, Gluten-Free)
Serves: 4-6
Soak Time: 20 minutes
Prep Time: 15 minutes 
Cook Time: 20 minutes
Total Time: 55 minutes
Ingredients
For the crème fraîche:
1/2 cup raw cashews
1/2 cup filtered or spring water
2 Tablespoons lemon juice
sea or Himalayan salt and freshly ground pepper, to taste
For the kitchari:
1-1/2 cups split yellow mung dahl
1-1/4 cups brown basmati rice
sea or pink Himalayan salt, to taste
1 large carrot, peeled and cut into ribbons with a peeler
1/2 cup choppped lacinto kale (also called Tuscan kale or cavolo nero)
2 Tablespoons virgin coconut oil (or ghee if not vegan)
1 teaspoon cumin seeds
3/4 teaspoon ground ginger
3/4 teaspoon ground cinnamon
1/4 teaspoon ground clove
1/4 teaspoon ground turmeric
1/4 teaspoon ground fenugreek
1 small red onion, cut into rings
1 garlic clove, thinly sliced
fresh chopped coriander (to garnish)
Directions
Make the crème fraîche: Soak the cashews for a minimum of 20 minutes, or overnight. After they're done soaking, drain and rinse them. Place the cashews, fresh water, lemon juice, and salt and pepper in a high-speed blender or food processor and pulse until smooth.
Mix the dahl and rice together in a large sieve and rinse well.  Transfer to a bowl, cover with water and soak for 20 minutes, or up to 1 hour.  Drain and rinse.
Place the dahl and rice in a pot and add just enough water to cover. Add salt, bring to a boil, then lower the heat, cover and simmer until the mixture is cooked and all the water has evaporated, about 10 minutes.
Lift the lid of the pot and place the carrots and greens on top. Cover, remove from the heat and set aside.
Heat the ghee or coconut oil in a frying pan over medium heat. When hot, add the spices and fry for 30 seconds. Add the onion and cook until soft and caramelized. Add the garlic and cook for another minute.
Pour the onion mixture over the dahl and rice and stir. Taste and add additional salt if necessary. Plate, topping each bowl with a little cashew crème fraîche and fresh chopped coriander, and serve.
Additional Notes
The longer the cashews soak, the thicker the crème fraîche. Cashew crème fraîche can be stored in the refrigerator for up to 4 days.
If you decide to make the crème fraîche and kitchari all in one go, soak the cashews and the rice and lentils while you prep the vegetables; while the kitchari is cooking, blend the crème fraîche.
The longer the dahl and rice are left soaking, the quicker they'll cook.
After you add the carrots and kale to the pot, be careful not to overcook them.
Everyone: try adding sesame seeds, avocado, or fermented vegetables to your kitchari bowl. Vegetarians and omnivores: try poached or fried eggs.
Photos by Shiraz Leyva