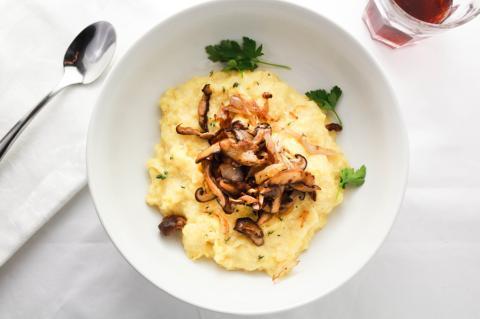 Now that the wet winter weather has blossomed into a decidedly fickle spring, how does cozying up with a warm bowl of porridge sound? Most of us equate porridge with breakfast, but what I'm talking about today will actually make a lovely dinner. Creamy polenta with sautéed mushrooms is just the thing for a cool, wet Meatless Monday. Its simplicity, together with its rustic, stick-to-your ribs charm, just might make you look forward to making dinner—and eating it, of course.
A Little About Corn
Polenta is made from cornmeal. Depending on where you are in the world, corn may or may not be in season now. In Mexico, where corn is indigenous, it was traditionally eaten during the wettest time of the year. This falls in line with the Ayurvedic paradigm, in which corn is characterized as dry and heating—a great food in early spring. But what about all that fresh corn which appears annually at the summer farmer's market, do you ask? It has a slightly different bioenergetic profile. According to Ayurvedic expert John Douillard in his fantastic book The Three Season Diet, fresh corn overheats the body only if eaten in excess. So, if you're interested in balancing your body with food and it's wet and cool where you are, reach for polenta, grits, or homemade popcorn, but go easy on the fat. And still say yes to fresh, local, organic corn in the summer.
Cornmeal vs. Polenta: What's The Difference?
There's long-standing confusion out there about the relationship between polenta and cornmeal. Polenta is one of many things you can make out of cornmeal; it's simply cornmeal cooked with water.
The quality of cornmeal varies greatly. Fresh cornmeal is best, but unless you can make your own, it can be hard to find. The next best alternative is stone-ground, medium cornmeal. And do note: corn falls into the best-to-buy-organic category. A significant portion of corn crops are genetically modified; in the U.S., over half of planted corn acreage falls into this category.
How To Make Polenta With Mushrooms
Polenta is an easy dish that makes weeknight dinner a no-brainer, but it's also delicious and quite nice looking on the table. It's the kind of dinner that will make you feel like you've done something good for yourself and your loved ones when you take the time to make it. In terms of skill, it only requires stirring and a little discernment to know what kind of texture you'd like. On its own, it's rather light and bland, but with the addition of fat and sautéed mushrooms, it becomes creamy and luscious. If, when you're making it, it becomes too stiff, add a little more water in small increments. Or, if you'd like a richer texture and flavor, add butter and/or more cheese. Ask your body what it wants and go from there. Oh, and practice. As in all things, practice makes great polenta. I'm tempted to say practice makes perfect, but since perfect has that unfortunate connotation of stress associated with it, I think it's much better—and more accurate—to say, practice will make plenty of good eating. And what more encouragement could you need than that?
Creamy Polenta With Mushrooms
(Vegetarian, Gluten-Free)
Serves: 4
Prep Time: 10 minutes
Cook Time: 65 minutes
Total Time:  1 hour 15 minutes
Ingredients
1-1/2 pounds shiitake mushrooms, sliced into 1" pieces
2 medium shallots, thinly sliced
4 sprigs thyme
1/4cup vermouth or other dry white wine
sea or pink Himalayan salt
freshly milled black pepper
2 Tablespoons + 2 Tablespoons ghee (or butter or olive oil)
4-1/2 cups filtered water
1 cup medium, stone-ground cornmeal
4 ounces Gruyere cheese, finely grated (omit to make vegan)
Directions
Heat 2 tablespoons of ghee (or olive oil or butter) in a large skillet over medium high heat.
Add the mushrooms, being careful not to overcrowd the pan. Let them cook undisturbed until caramelized on the bottom, about 5 minutes.
Toss and cook until golden all over, about 5 additional minutes. 
Add the additional 2 tablespoons of ghee (or olive oil or butter) to the pan, along with the sliced shallots and thyme. Cook until softened, around 5 minutes.
Add the wine and cook until the liquid has evaporated, about 2 minutes. Season with salt and pepper and remove from the heat.
In a heavy, medium sized pot, bring 4-1/2 cups of water to a boil over medium high heat.
Add 1 teaspoon of salt and stir.
Add the cornmeal in small increments, whisking constantly to prevent clumping. Once all the cornmeal is in the pot, set the heat to low. Continue whisking for about 4 minutes as the mixture thickens.
Continue to cook for about 30 minutes, stirring every so often with a wooden spoon, adding a little extra water if the polenta becomes too thick. 
Remove the polenta from the heat. Stir in the grated Gruyere cheese and add additional ghee or butter to taste.
When the cheese and butter have dissolved, taste and adjust the seasoning.
Plate immediately, topping each portion of polenta with mushrooms, and serve. 
Photos by Shiraz Leyva