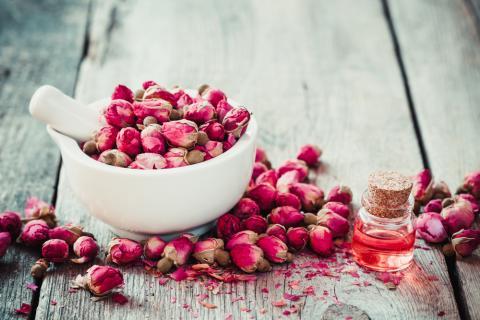 Essential oils are a great way to ease social interactions, which makes them great for the multitude of gatherings that happen during the holidays.  Oils can also be used to set the tone for work meetings, one-on-one conversations, and in my own case, trying to sell my home.
Oils are particularly useful if you anticipate any tension or conflict during an upcoming gathering or interaction. Even if you predict smooth sailing, it's still fun to set a mood with your favorite oils.  Here are 4 particularly good ones to help steer your upcoming holiday dinner (or any gathering) towards the successful and enjoyable side and away from the disasters portrayed in so many cheesy movies. 
Rose (Rosa species)
Rose is great to use in your entryway to open the hearts of your guests and to provide a sense of comfort as they come into your home.  It may even help ease the nervousness your more introverted friends may be feeling as they arrive! A drop or two on an entryway rug works.
More about rose: 
Rose is good for when you need to have an uncomfortable conversation with someone, especially a lover, partner, or spouse.
Rose is usually pretty strong. You don't need much. And, it's pricey.  If it's cheap, it's fake.
Geranium (Pelargonium species)
Often called "rose geranium," this oil shares some chemistry with rose but is much less expensive. Geranium is a balancing oil, emotionally speaking. If you're anticipating, say, a tense family gathering, you can try geranium to help dial it down. For instance, Aunt Bessie's angry political rantings on one side of the dinner table and Cousin Henry's delicate nerves on the other.
More about geranium:
Geranium is also helpful for one-on-one interactions, like rose.
There are many different scented geraniums beyond rose geranium. Different scents likely translate to different influences on the emotions.
Fir (Abies species)
My teacher Kathi writes about using fir for family harmony.  It's a popular scent to use during the holiday season and throughout the winter in particular. Fir's "green" scent and the beautiful evergreen tree itself is symbolic of the end of the darkness and the green spring to come.
More about fir:
Fir relaxes tension but it's energizing as well, to keep your gathering lively.
It was hung over entryways to keep witches and evil spirits out. Might be worth a try if you're worried that your least favorite family member will show up to your party!
Star Anise (Illicium verum)
Star anise is another balancing oil that energizes while relieving tension at the same time. Both effects are great support for holiday gatherings, especially in the evening.
More about star anise:
Star anise smells pretty similar to aniseed, but has less potential for toxicity.
Star anise has an appetizing scent. Use it if you're having a dinner party and don't want to deal with too many leftovers… 
What essential oils should I avoid using for parties?  
There are many possibilities here, but the one that comes to mind for avoiding during holiday parties is clary sage (Salvia sclarea).  It's a joyous, uplifting oil for having a good time. Some folks even find it euphoric. That's not why I'm recommending against it.  It's that sniffing it while also drinking alcohol may result in nightmares.  My friend had a wine party and I gifted her a clary-containing perfume. She used it that evening, while also having a couple glasses of wine. Not knowing anything about clary sage (or, really that it was even in the blend), she asked the next day if there was anything in the perfume that could cause nightmares…
Additional tips on using essential oils for your gathering…
A little goes a long way. You don't need to be bombarded with the scent of an oil for it to work.
Additional aromatherapy reading
Keville, K & M Green (2009) Aromatherapy - A compete guide to the healing art, 2nd Ed. Crossing Press, Berkeley, CA. 
Worwook, VA (1991) The Complete Book of Essential Oils & Aromatherapy. New World Library, San Rafael, CA.