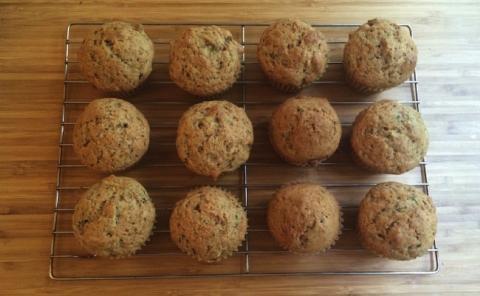 In the Pacific Northwest, where my husband and I live, summer is winding down and fall is quickly sweeping in. Leaves that were once green and full of life now lay crumpled on the ground in hues of brown, orange, and gold. Rainy days are back to stay, and the cool, damp mornings make me long for a cup of tea and a good book.
With the changing of seasons, we must also lay summer to rest. My husband and I dutifully dig out the cooler weather clothes, find the warmer blankets, and, of course, put our now-sleepy garden plot to bed. Green tomatoes fling in every which way, kale and chard sprout still happy, and our big, sprawling zucchini produces its last fruit. At once, we must use or preserve our summer bounty in an effort to not let it go to waste.
It is the fall season when we return to the kitchen to spend long hours stewing, and stirring, and of course, baking. I haven't always been a keen baker. In fact, I've been known to ruin many a birthday cake, and once even forgot to add the eggs in a recipe. But I've patiently honed my skills, and learned (often the hard way) the right and wrongs of our oven. With an abundance of zucchini this year, I decided to perfect the zucchini muffin. They are wonderful warmed and served with nut butter or tart jam, and their small size is perfect for freezing and grabbing on the go.
I made many variations of zucchini muffins this year, but this one is by far my favorite. The recipe uses simple, common ingredients that you likely already have in your pantry, and they are so quick and easy that even the inexperienced baker can flawlessly recreate them. I've chosen to add walnuts to my muffins, but really any tree nut would do, and if you have a sweet tooth, the addition of chocolate chips or dried fruit would also be lovely. One final note: zucchini tends to be wet and can weigh-down your muffins if not treated correctly. Be sure to shred with a box grater, then place into a tea towel or several layered paper towels and carefully press out any excess water. This will ensure your muffins will stay light and delicate.
Harvest Zucchini Muffins
(makes approximately 18 muffins)
Ingredients:
2 large eggs
3/4 cup canola oil
1 cup sugar
1/2 cup brown sugar, packed
2 teaspoons vanilla extract
3 cups zucchini, shredded (about 2 medium or 1 large zucchini)
3 cups all-purpose flour
2 teaspoons baking powder
1/4 teaspoon baking soda
2 teaspoons cinnamon
1/4 teaspoon nutmeg
1 teaspoon salt
1 cup walnuts, chopped
Cupcake liners or non-stick cooking spray
Method:
Preheat oven to 350 degrees Fahrenheit.
In a large bowl, combine eggs, oil, sugars, and vanilla extract. Whisk well to tease out any lumps, and then add shredded zucchini. In a separate bowl, combine flour, baking powder, baking soda, cinnamon, nutmeg, and salt. Then, carefully add dry ingredients to the wet ingredients, adding small amounts at a time and stirring to combine. Add walnuts and stir.
Line a standard cupcake tin with paper liners or spray with non-stick cooking spray. Spoon batter into each cup until ¾ filled.
Place on center rack in oven and bake 25-30 minutes, checking frequently and testing with a toothpick. Muffins are done when tops are golden brown and smell delicious. Place on wire rack to cool. Enjoy!