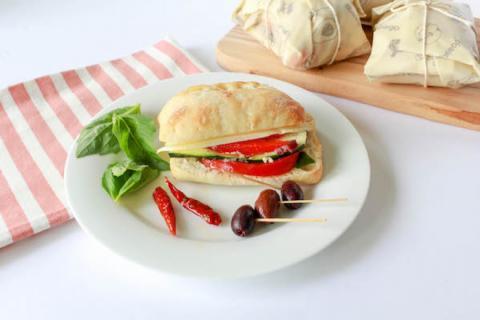 Being on the go doesn't mean you have to sacrifice healthy eating habits. As the weather warms and we spend more time outdoors, more warm weather veggies are showing up in our gardens and at the farmers' market. All of this means it's a great time for pan bagnat, a healthy, colorful, layered vegetable sandwich that will actually get better as you carry it with you. Just wrap it well and pop it in your bag. When you get hungry, sit down, take out your sandwich, and enjoy life a little more.
Pan Bagnat: The Vegetarian (or Vegan) Version
Pan bagnat is a specialty sandwich from the south of France. Commonly composed of vegetables, herbs, hard-boiled eggs, anchovies, and tuna all wrapped in a bun, it's like the sandwich version of salade niçoise. Pan bagnat means "bathed bread" in the local Provençal language, which refers to the lavish amount of vinaigrette and olive oil used in it. Julia Child once said the mark of a good pan bagnat is vinaigrette dripping down your arm when you eat it.  I couldn't agree more: marinating this sandwich gives new meaning to the phrase special sauce.
For Meatless Monday, today's pan bagnat is vegetarian, but it still takes cues from Julia—the bread gets bathed-a-plenty. You can easily make a vegan version by omitting the cheese and eggs, or if your garden is in bloom, see what you can find out there to wrap in bathed bread. Garden fresh produce will elevate your simple pan bagnat to simply divine. Spinach, jalapeños, radishes, and lettuce are some nice additions to try. There are only two things to remember: don't be fussy, and make sure you use bread that will appreciate a little bathing and not become too squashy.
Taking It With You
If you're lucky enough to be on your on your way to the French seaside, picking up pan bagnat is a nice idea, but you can really get in touch with what's great about it when you make it yourself. Need to take a long-haul flight? Planning a picnic? Have a long workday ahead? Need to clean out your fridge or use some of those veggies from your garden? These are all ideal occasions for pan bagnat.
In the past, many of us used foil or plastic wrap to make pan bagnat. I (gratefully) wrap mine in Abeego, a plastic wrap alternative made from beeswax, so I don't have to worry about endocrine disrupting chemicals contaminating lunch. I love the way flavors marry in pan bagnat, but it tastes even better to me when it's wrapped safely.
The next time you're on the go, bring a homemade pan bagnat along and watch what happens when it's time to eat.  It will make grabbing a bite to eat easy, your taste buds will thank you, and you'll probably feel pretty great, too.
Pan Bagnat, A Provençal Vegetable Sandwich (Vegetarian)
Serves: 4
Prep Time: 1 hour
Cook Time: resting, overnight
Total Time: 1 hour plus resting overnight
Ingredients
For the vinaigrette:
1 clove garlic, minced
2 teaspoons fresh lemon juice
2 tablespoons extra-virgin olive oil
sea or pink Himalayan salt and freshly ground black pepper, to taste
For the pan bagnat:
4 small rolls of crusty bread or a 12-inch portion of baguette cut into 4 segments
3 tablespoons extra-virgin olive oil
1/2 of a medium zucchini, ends trimmed and cut into thin strips
1/4 of a large red bell pepper, stemmed, seeded, and cut into 1/4-inch strips
1 ripe tomato, cored and thinly sliced
3 Tablespoons extra-virgin olive oil
2 teaspoons capers
8 good black or green olives, pitted
8 fresh basil leaves, torn or chopped into small pieces
4 ounces of Brie or other type of cheese, cut into thin slices
2 hard boiled eggs (optional)
Directions
Make the vinaigrette: in a small bowl, mix the garlic and lemon juice. Gradually whisk in the olive oil. Add salt and pepper to taste. Place the cut vegetables on a clean, flat surface and drizzle the vinaigrette over them.
Cut the bread horizontally so you have even top and bottom pieces. Turn all the bread slices cut size up and drizzle olive oil on each, dividing 3 tablespoons between all the pieces.
Layer capers, olives, and basil on the bread.
Layer the vegetables onto the bread, followed by slices of brie, and hardboiled egg, if using.
Close the sandwiches and wrap each one tightly in bee's wrap.
Place the sandwiches between two plates, flattening and weighing them down with a bag of flour or sugar, or something similar.
Place the weighted sandwiches in the refrigerator for several hours, or overnight. Allow the sandwiches to come to room temperature before serving.
Additional Cooking Notes
You can use marinated bell peppers in lieu of fresh; marinated artichokes also make a delicious addition to pan bagnat.
Photos by Shiraz Leyva