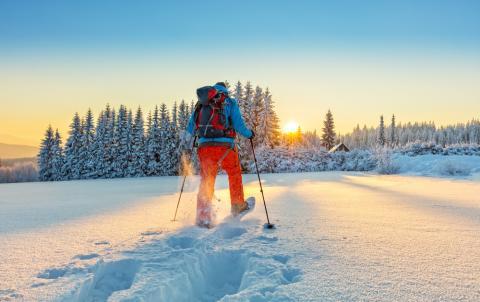 Staying fit in the winter can be a challenge. Morning frost and frigid temperatures make lounging inside tempting. The urge to gorge on food while watching movie marathons sets in.
Don't let the cold weather have your health hibernating for winter. Get up. Get moving. And follow these tips for how to keep active during winter.
1. Set Goals
One of the best ways to get yourself motivated is to set a personal goal. Whether it's along the lines of going for a short walk after work or trying to increase your workout time routine, having the goal in mind is great motivation. Be sure that your goal challenges you, but is not something out of the confines of your body's capability. The idea is to keep active.
2. Exercise With A Friend
Sometimes an outside source is what we need to keep motivated. How many times have you skipped out on a workout because you simply didn't feel like it? Walking, yoga, or choosing some form of activity with a friend can keep you moving and also cure any winter blues. Stay happy and healthy this winter and join up with a friend.
3. Try Workout Videos
Yoga, cardio, kickboxing, zumba—whatever you are into, there is an exercise video for it. When it's storming outside or the weather is hitting single digits, do your workout indoors. It will save you a drive to the gym, as well as money on a membership. With endless options, you will never tire of doing the same old routine.
4. Join A Hiking Group
Winter hiking offers the opportunity to see the outdoors in a different light. By joining a hiking group, you can explore new areas and meet new people. The guides can teach you about the area, as well as motivate you to get up and out of the house. If you love the outdoors, but tend to stay inside in the winter, a hiking group is the perfect way to get you outside to play.
5. Embrace The Cold With Winter Sports
Part of the fun about winter is winter sports are here! Snowboarding and skiing are excellent ways to have fun and stay fit.  If you are not an adrenaline junky and tend to shy away from winter sports, try snowshoeing. Snowshoeing can especially be a fun challenge—as I learned one snowy day on my way to work.
Have fun this winter and get out and play!