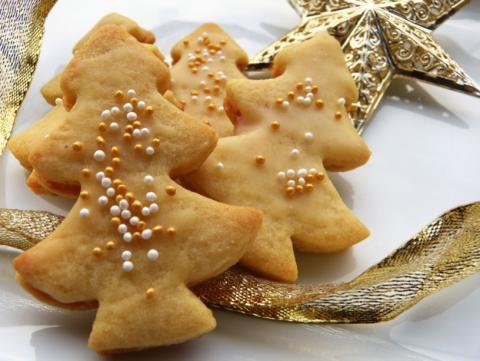 It's officially the holiday season, and that means cookies! Try this simple sugar cookie recipe for a full day of frosting and decorating with friends and family. The options are endless: fun shapes, colorful sprinkles and flavorful frostings are just a few of the many ideas to explore! 
Vegan Sugar Cookies
*Makes about 20 cookies
Supplies
1 Large Cookie Sheet
Ingredients
1 cup Vegan Butter (softened)
¾ cup White Sugar
1 Tablespoon White Vinegar
1 teaspoon Vanilla Extract
2 cups All-Purpose Flour
1 teaspoon Baking Soda
Directions:
-Start by preheating the oven to 350 degrees F. Then grease your cookie sheet and set aside.
-In a large bowl, cream together the butter and sugar until it becomes fluffy. Add in the vinegar and vanilla extract, mixing well.
-Using a medium bowl, combine the flour and baking soda before adding it to the larger bowl and mixing everything together.
-Scoop about one Tablespoon of dough for each cookie or roll out the dough and cut into shapes.
-Put the cookies in the oven and bake for about 10 minutes or until the edge of the cookies are slightly browned. Allow to cool completely before frosting.