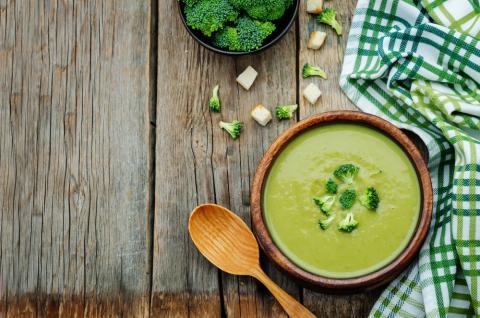 I love eating soup, but did you know certain soups can boost immunity? Whenever you're starting to feel sick or under the weather, I really recommend eating some soup. But not just any soup: These three immune boosting soups will help you get back on your feet in no time. Whipping up these soups will not only taste good, but also help you stay healthy. It's good for both preventing and treating sickness, so be sure to eat up! 
Lemon Chicken Soup  
Lemons have antibacterial properties. They're also great at lowering fevers. When mixed into soup, their tarty flavor adds a nice touch to salty broths and brings about a wonderful, fresh aroma. Obviously, this isn't the best choice of soup for vegetarians or vegans, but it's great for omnivores who want a fresh spin on traditional chicken noodle soup. You can also feel free to add noodles, carrots, or celery to this recipe as well! 
Ingredients 
1 Tablespoon olive oil 
1 onion, diced
6 cups chicken broth or stock 
1/2 cup Arborio rice 
3 eggs, lightly beaten 
2 cups cooked chicken 
juice & zest from 2 lemons
2 Tablespoons white miso paste (optional) 
salt, to taste 
Directions
Heat the oil in a pan over medium high heat, then add the onions and cook until tender, about 3 to 5 minutes.
Add the chicken broth and rice, bring it to a boil, then reduce the heat and simmer until the rice is cooked, al dente, about 15 to 20 minutes. 
Slowly pour 1 cup of the hot broth into the eggs while whisking and then slowly whisk the egg mixture into the soup.
Add the chicken, lemon juice and zest and cook to warm, about 5 minutes.  
Remove from heat, mix 1/4 cup of the hot broth with the miso paste and then mix the mixture back into the soup before seasoning with salt. 
Broccoli Soup 
If you love broccoli, you're going to love this soup. It's vegetarian and totally delicious. Broccoli has anti-inflammatory compounds that help keep your immune system and body strong. Combining that with aromatic leeks, which have similar detoxing properties to onions, makes this one powerful soup. And tasty too! You can also feel free to add some melted cheddar cheese if you so choose. 
Ingredients
1 large head of broccoli 
2 Tablespoons grass-fed butter 
1 cup chopped leeks 
4 garlic cloves, minced
4  cups vegetable broth 
1 teaspoon fine sea salt 
1/2 teaspoon black pepper 
pinch of red pepper flakes 
Directions
Cut the broccoli into florets.
In a pot over medium heat, bring 3 cups of water to a boil, then add in the broccoli florets. Reduce the heat to medium and let it simmer until the broccoli is tender, about 3 to 4 minutes. Drain and transfer the broccoli to a bowl and set it aside. (You can save the water and actually use it to water any houseplants you have when it cools down too. This will reduce your water footprint!)
In the pot, heat butter and sauté the leeks and garlic together for 1 minute.
Add in half of the broccoli and sauté for 3 minutes until veggies are sweating and the broccoli is soft.
Add in vegetable broth, bring to a boil, then reduce heat and let it simmer for 15 minutes until the soup reduces slightly.  
Using an immersion blender, blend soup until smooth.
Add in remaining broccoli florets, salt, pepper, and red pepper flakes. Let it simmer for 15 minutes. Taste and feel free to adjust the seasoning to your own preferences. Serve hot and enjoy! 
Carrot, Sweet Potato & Ginger Soup 
This hearty soup certainly doesn't skimp out on vegetables, that's for sure. It's completely vegan and nice for chilly winter nights because it's on the thicker side. Plus, it's packed with cold fighting ginger—this root contains natural antioxidants that have been used for centuries. That's not all though: This soup is also packed with beta-carotene from the sweet potatoes and carrots, which helps aid the production of vitamin A in the body, improving and supporting a healthier immune system.  
Ingredients
1 large sweet potato, diced into medium-sized cubes
2 cups carrots, diced into medium-sized cubes
1 Tablespoon vegetable oil 
1 onion, diced
1 garlic clove, minced
2 Tablespoons grated ginger 
1 liter vegetable broth 
pinch of cayenne 
salt & pepper, to taste 
Directions
Preheat your oven to 400 degrees and line a pan with parchment paper.
Spread the cubes of carrots and sweet potatoes out on your pan and bake for 20 to 25 minutes, or until tender. 
Heat vegetable oil in a large pot on medium heat.
Add garlic and onion to the pot, stirring constantly for 2 to 3 minutes.
Add grated ginger, sweet potato, carrots and a pinch of cayenne and stir together.  
Next, add your vegetable broth and bring to a boil for 2 minutes. Reduce heat to low and let simmer for 30 minutes.
Transfer soup to a blender (or us a hand blender) and blend soup until smooth. Season with salt and pepper to taste. 
Sustainable Cooking Tips & Reminders
As always, when it comes to making any meal, I highly suggest composting any food scraps you have left over. Food scraps such as egg shells and the ends and peels of vegetables should go straight into your compost bin, not the trash. When you throw food scraps away, they get sent to a landfill where they cannot properly decompose and they produce methane gas. Please do your part for the environment and compost any food scraps you're left with after making these meals. Even if you don't have the room for a compost bin at home, you can save scraps, freeze them, and donate them to your local food scrap drop off location at the farmers market or community garden. Someone else will happily take them off your hands and put them to good use! 
I also highly recommend getting the ingredients for these meals as locally as possible. I love visiting my farmers market and grabbing in season produce. I live a zero waste life so I also make sure to bring reusable produce bags and tote bags with me—that way I can refuse single-use plastics. It's such an easy way to support the environment and get healthy, tasty ingredients.  
Which of these immune boosting soups will you try? Here are a few other ways to have a low waste sick season.