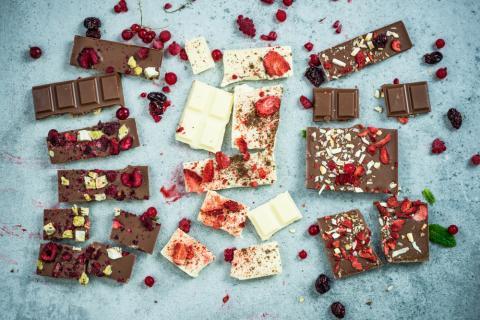 Valentine's Day is synonymous with fiery red cinnamon hearts and decadent truffles, not to mention sugar cookies, lava cake, and other sugar-rich treats. These sweets have their place, but if you're looking to share the gift of health–without sacrificing taste–check the hydrogenated oils, chemical sweetener and preservatives at the door and make these goodies from scratch (and with love) instead.
Homemade Chocolate
Chocolate is a classic Valentine's staple, and it's no wonder: as a known aphrodisiac, dark chocolate contains high levels of magnesium, iron, manganese and copper. While there are several fair trade, organic brands of dark chocolate that you can buy, why not make your own? Here's how:
Ingredients
organic cacao powder
unrefined coconut oil
raw honey
sea salt, lavender, rose petals, almonds, etc.
Spoon 2 tbsp. coconut oil and 1/4 cup cacao powder into a double boiler. Melt together gently. Add 1-2 tbsp of raw honey at the very end, just when the coconut oil and cacao have melted completely.
Pour mixture into chocolate trays, paper muffins tins or other container.
Sprinkle sea salt, lavender, rose petals or your lover/friend's favorite additions.
Place in fridge for several hours to set.
Enjoy!
*Note: keep chocolate in cool environment, preferably the fridge or freezer, as coconut oil melts at room temperature.
Cinnamon Heart Toast
Think of this as a grown-up version of French toast. It serves as a terrific side to hot chocolate or coffee, or even as a midday snack.
Ingredients
Multi-grain, whole grain, or other hearty bread
Cinnamon
Coconut Oil
Carefully cut bread into heart shapes using a sharp knife
Spread with coconut oil and sprinkle with cinnamon.
Broil for 2-3 minutes, until toast is crispy and cinnamon is browned.
Enjoy!
Maple Glazed Pecans
These are the perfect addition to any meal–as a topper on yogurt or oatmeal, as a tasty treat atop a beet arugula salad, or as a late night snack tossed with popcorn. Nuts are a heart-healthy addition, and the maple glaze provides a perfectly sweet crunch.
Ingredients
whole or halved pecans
maple syrup
Himalayan salt
coconut oil
Heat a pan with a teaspoon of coconut oil or coconut oil spray. Once warm, toss 1 cup pecans into pan.
Slowly toast pecans, stirring frequently to keep from burning.
Once mostly brown and toasted, pour on 1/4 cup maple syrup. Continue stirring while you lightly salt to taste.
Let cool, and enjoy!