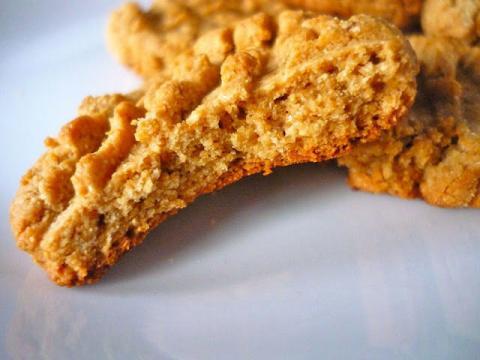 There are lots of reasons people choose to follow a grain-free diet. A diet low in grains is better for your gut (eliminating harmful saponins contained in the grain that can cause leaky gut), it reduces inflammation, and is ideal for those looking to reduce their sugar intake.
I realize that although these cookies don't contain grains, they still contain sugar! But it's the thought that counts, right? I first laid eyes on the cashew butter cookie at a vegan restaurant here in Toronto. It tasted like a creamy peanut butter cookie! And after learning it was grain-free, I had to have a go at recreating it. 
It's important to grind the sucanat in the coffee grinder because it adds to the buttery/crunchy texture of the cookie. If you skip this step you may bite into a big piece of sugar. A great thing about this recipe is that it doesn't contain any extra oil; the roasted cashew butter contains enough natural fat to make an authentic dough.
You could of course sub in peanut butter for the cashew butter -- just make sure it contains only peanuts and no added oil or sugar. And instead of coconut flour, you're welcome to use almond flour, but be weary that the cookies may come out softer than expected. 
These cookies were so incredibly easy to make and they definitely didn't taste like they were gluten-free, let alone grain-free. Now if you'll excuse me, I have a tray of cookies to polish off.
Recipe: Grainless Cashew Butter Cookies
Makes 24 cookies
Ingredients: 
1/2 cup roasted cashew butter
1/2 cup sucanat, ground in a coffee grinder until sandy
1/2 cup coconut flour
1/4 tsp baking soda
1 flax egg (mix 1 Tbsp ground flaxseed with 3 Tbsp water, mix, and let sit for 5-10 minutes)
1/4 cup almond milk/water
1/4 tsp sea salt
1 tsp vanilla
Cream together cashew butter, sucanat, flax egg, vanilla and almond milk in a bowl. In a separate bowl, mix together flour, salt and baking soda. Gradually add dry ingredients to wet ingredients. Mix until fully incorporated. Form into balls and press with a fork in a crisscross pattern. I made mine pretty small, like mini cookies. I probably scooped each to be around a rounded teaspoon worth. Bake at 350 F for 12 minutes.
Photo Credit: "cashew_butter" by Jaclyn Enchin is licensed under CC BY 2.0