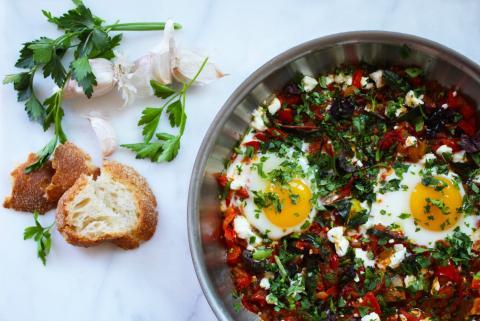 Do you have a hankering for a weekend breakfast that's a little indulgent but still healthy, and also easy to put together? If so, shakshuka could do the trick nicely.  
During the week I'm mostly all business, which means my breakfast will likely consist of presoaked oats or fruit, depending on the season. But on those mornings when I want to linger a little in the kitchen yet stop short of a culinary challenge, I turn to shakshuka.
Shakshuka is a dish of North African origin, often by way of Israel. It appears in many variations but always includes eggs braised in a flavorsome tomato sauce. What distinguishes it from its Italian cousin, Eggs in Purgatory, is the inclusion of distinctly un-Italian herbs and spices like cilantro and cumin. Although shakshuka is warming, the use of fresh tomatoes makes it an early summer breakfast in my world. Use the best tomatoes you can find and your shakshuka will sing summer the moment it graces your tongue.
This versatile dish can be dressed up or down with leafy greens, peppers, cheese, spices, or even cured meat. Although I cannot deny my love for a good merguez or chorizo, I must admit I feel best when I take my shakshuka with lots of plants, so I'm presenting a plant-based version today. Eggs accompanied by lycopene-rich tomatoes, dark, leafy greens, fresh herbs, and fragrant spices means this shakshuka is a nutritional star. After it emerges from the oven, garnish it with fresh cilantro and parsley and you'll end up with something that looks as wonderful as it tastes.
After the sauce is made, the shakshuka can be finished on the stove or in the oven. During the summer I prefer to keep it on the stovetop. Either way, gentle heat is used at this stage so you end up with gloriously runny eggs in a rich, bubbly sauce dotted with soft, melting crumbles of feta.
When I plan on enjoying an overnight party I'll make the sauce the night before. That way in the lazy late morning it's ridiculously easy: after reheating the sauce, add eggs, greens, olives, and feta, and it's done in no time. My overnight guests, many of whom stayed up too late and perhaps imbibed a bit indulgently, always find succor in the soft eggs in spicy, aromatic sauce. If the shakshuka is accompanied by crusty bread, fresh juice, good coffee, and flowers on the table, my dear ones are back in business in no time.  And for those of us who have kept it healthy all night long, shakshuka is just as life giving to us, too.    
Shakshuka Recipe (Braised Eggs with Tomatoes, Swiss Chard, Feta, and Fresh Herbs)
Serves 4
Ingredients:
3 tablespoons extra-virgin olive oil
2 onions, peeled and diced
2 each red and yellow peppers, diced
2 cloves garlic, peeled and mashed with the side of a large knife
1 teaspoon coriander seeds, crushed
1 teaspoon cumin seeds, crushed
1 teaspoon black peppercorns, crushed
½ teaspoon dried chili flakes, crushed
1 teaspoon chili powder
½ teaspoon turmeric
6-8 ripe tomatoes
1 ½ teaspoons sea salt
splash of sherry vinegar
1 cup Swiss chard, loosely packed, coarsely chopped
8 organic, free-range eggs
½ cup olives, crushed
5 ounces feta cheese, broken up with your fingers
2 tablespoons cilantro, chopped
2 tablespoons parsley, chopped
Directions:
Heat the olive oil in a large pan over medium high heat. Add the onion and cook for about 5 minutes, until soft. Add the peppers, garlic, and spices, and cook for 5-10 minutes, stirring periodically.  Everything should have a nice color and the spices should release their fragrance. Add the tomatoes, salt, and the splash of sherry vinegar. Stir, reduce heat to medium and cook for 15 minutes. Stir in the Swiss chard and add the olives.
Sprinkle the feta over the sauce, placing it so the eggs that you will incorporate in the next step will not obscure it.
Make space for the eggs and gently crack them into the sauce. (The sauce should partially cover them.) Cover the pan and cook for approximately 3 minutes over gentle heat. Turn the heat off, remove the lid and check the eggs. If they haven't set enough for your preference, cover the pan and let sit for an additional 3-5 minutes.
Garnish with parsley and cilantro and serve.