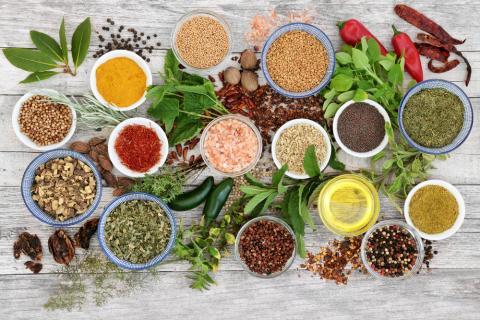 Whether you're looking to save a few bucks or just putting a DIY spin on this holiday season, making your own gifts can be a great idea.  In addition to saving you money, they're full of love, time, and thoughtfulness, and the recipient nearly always appreciates the extra effort that goes into such a gift.  You can also control the ingredients, so you know that you're giving your recipient a gift that aligns with his or her (or your!) values, be it organic, animal-friendly, fair trade, or something else.  DIY gifts are also more sustainable—especially if you check a thrift store for items you need or reuse glass jars, for example.
Tips for Gift Giving
For this gift idea, there are 5 different spice mixes you can make.  You can make them all and give each recipient an assortment of spices, or you can make a big batch of just one type and gift that to everyone on your list.  If you're looking to get the most variety for your buck, purchase onion powder, garlic powder, oregano, salt, black pepper, and paprika or parsley—you can mix and match these for the Mediterranean Mix, Ranch Seasoning Mix, and Cajun Seasoning Mix pretty easily.
You can tweak each recipe to your own taste preferences (or those of your recipient).
In addition to putting these in nice glass jars—reuse ones you have, check thrift stores, or order online—you can make them even cuter by adding ribbon or cloth décor and attaching cute labels.
Try printing out tags or labels that tell what's inside and how best to use the spice mix.  You can include the type of mix, the ingredients, and the following general directions:
To make a dressing, combine 2 Tablespoons with 1/2 cup olive oil and 1/2 cup vinegar and mix well.
To make a dip, combine 2 Tablespoons with 2 Tablespoons olive oil and 1 cup of Greek yogurt, sour cream, or a combination of the two.
Mediterranean Mix
4 Tablespoons dried parsley
3 Tablespoons dried oregano
3 Tablespoons dried basil
2 Tablespoons onion powder
1 Tablespoon celery seed
1 Tablespoon sugar
1 Tablespoon salt
2 teaspoons black pepper
Taco Seasoning Blend
4 Tablespoons chili powder
2 Tablespoons cumin
2 Tablespoons ground coriander
1 Tablespoon onion powder
1 Tablespoon garlic powder
1 Tablespoon oregano
1 Tablespoon smoked paprika
1 Tablespoon salt
1 teaspoon black pepper
Ranch Seasoning Mix
6 Tablespoons dried parsley
3 Tablespoons dried dill
2-1/2 Tablespoons onion powder
2-1/2 Tablespoons garlic powder
1 Tablespoon salt
1 Tablespoon black pepper
Indian Seasoning Mix
3 Tablespoons ground coriander
3 Tablespoons ground cumin
3 Tablespoons dried cilantro
2 Tablespoons turmeric
2 Tablespoons red pepper
1 Tablespoon ground ginger
1 Tablespoon salt
1 teaspoon black pepper
Cajun Seasoning Mix
4 Tablespoons salt
3 Tablespoons paprika
2 Tablespoons oregano
1-2 Tablespoons cayenne (depending on heat desired)
2 Tablespoons black pepper
1 Tablespoon onion powder
1 Tablespoon garlic powder