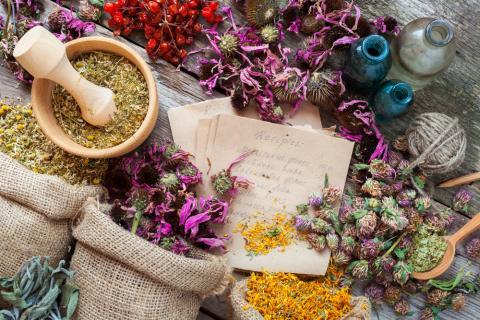 Menopause can trigger uncomfortable symptoms such as hot flashes, anxiety, insomnia, and irritability. The following recipes contain essential oils to provide some relief in balancing emotional stress, surges of heat, and sleep deprivation. Support this passage of time with loving self-care.  
Helpful Tips & Tools For Using Essential Oils
Most essential oils are handcrafted plant and flower extracts. They are highly concentrated and a little goes a long way. Always dilute essential oils. Select fragrances that speak to you and mix with a base oil that will best suit your body's needs.
Use with care. Test for allergies first.
Blend oils in a sterilized glass bowl.  They can react with plastic and other materials.
Use dark sterilized glass bottles for storing massage oil blends to help preserve their therapeutic properties. You can use spritzer bottles as long as they're glass or plastic.  You can use a dropper for essential oils too; glass is preferable as it will not retain the scent. After use sterilize with rubbing alcohol.
Create a label and date containers.
Basic Ingredients For Therapeutic Oil Blends
Base oils are used as carrier oil to which essential oils are added. Use a base oil that best suits your needs. Suggested oils for massage oil blends:
Almond Oil: All-purpose oil. Warming energy. Excellent for all skin types.
Sunflower Oil: High in Vitamin E. Delicate aroma.
Calendula Oil: Golden rich color. Gentle on sensitive skin.
Add Vitamin E using a Vitamin E capsule. Simply pierce the capsule and squeeze the oil out.
Purified water (for body mists) 
Suggested Essential Oils For Menopause
Bergamot: A citrus oil derived from the peel. Ideal for hot flashes. Refreshes and balances.
Fennel: Made from fresh fennel seeds. Balancing effect on hormones.
Geranium: Derived from flowers, leaves, and stalks. Enhances wellbeing and relieves stress.
Lavender: Distilled from the plant's deep purple buds. A favorite for soothing and calming.
Chamomile: Distilled from the flowers. Helps with depression and anxiety.
Clary Sage: Processed from the delicate pink flowers. This medicinal plant has long been known to relieve symptoms of menopause.
Rose: Derived from the flower buds and petals. Wonderfully fragrant and rejuvenating. 
Vanilla: Cured from the seed pods. A small amount goes a long way to dispel negativity.
Peppermint: The essential oil is gathered from the leaf. Mentally stimulating. Reduces discomfort of hot flashes.
How To Use Therapeutic Oil Blends
Self-Massage: Massage your entire body. With the healing power of your own touch give yourself a slow, gentle massage in the morning or before bed.
Pulse Point Massage: Anoint your pulse points in a circular motion at wrists, inside of elbows, and under ear lobes.
Quick Massage: Focus on temples or neck.
Instant Aromatherapy: Place 2 drops of essential oil onto a tissue and place under your nose. Clary Sage, peppermint, or lavender is an excellent choice. Breathe deeply with focused and intentional stillness. Repeat as needed.
Recipes For Massage Oil Blends For Menopause Support
Each recipe makes enough for one full body massage. Each formula uses almond oil as a base oil but other base oils may be substituted such as calendula or sunflower oil. Experiment with your own ideas! There are many pleasing blends and no rules.
Hormone Harmony Geranium Fennel Massage Oil
While fennel might seem an unusual ingredient, its licorice-like fragrance and cooling properties make this an ideal hormone balancing essential oil. The geranium helps diminish menopausal symptoms such as hot flashes and anxiety. Its soothing and uplifting scent balances emotions.
Ingredients to make 1 ounce:
2 Tablespoons almond oil
3 drops fennel oil
4 drops geranium oil
optional: vitamin E oil capsule
Directions:
Combine all ingredients in a sterile bowl.
If adding vitamin E, puncture the vitamin E capsule to release the oil, add it, and mix to a nice consistency.
Transfer into a small, dark, sterile glass container.
Secure with cap or dropper.
Massage after a warm shower or bath. Pour a small amount of oil into your hand and palm the hands together to warm the oil.
Breathe: Let go of any worries and let yourself relax. 
Allow the oils to soak in before getting dressed.
Silk Petals Massage Oil
This is a perfect combination of rose and geranium oils for those days when you need to de-stress and soothe your nerves. Vanilla is added for tranquility of the heart.
Ingredients to make 1 ounce:
2 Tablespoons almond oil
6 drops rose oil
6 drops geranium oil
2 drops vanilla oil
Directions:
In a small bowl combine all ingredients.
Stir until everything is nicely combined.
Transfer to a dark sterile glass container.
Secure with a cap or dropper.
Try a comforting massage after a warm shower or bath.
Apply over your whole body or perhaps where you might be feeling stress, such as shoulders, neck, or legs.
Make YOU the priority here and enjoy the potent calming effect.
Sweet & Stress-Free Massage Oil
Certain flowers lend themselves to easing tensions. Made from lavender, rose, and clary sage, this softly fragrant and mild blend is gentle and effective.
Ingredients to make 1 ounce:
2 Tablespoons almond oil
10 drops lavender oil
4 drops clary sage oil
2 drops rose oil
Directions:
Combine all oils in a small glass bowl.
Mix well.
Place in a dark bottle and seal with cap or dropper.
Apply to any areas of the body to relieve stress. Circular motions are very soothing. Your mindset should be relaxed and loving. Invite and encourage relaxation. 
Celestial Calm Massage Oil
Changes in sleep are a normal part of menopause and aging.  Lavender, chamomile, and orange oils are frequent companions in promoting sleep and tranquility. Bergamot, with its unique relaxing properties, makes this blend an amazing sleep-enhancing combination.
Ingredients to make 1 ounce:
2 Tablespoons almond oil
2 drops chamomile oil
6 drops lavender oil
4 drops orange oil
4 drops bergamot oil
Directions:
Blend all ingredients in a glass bowl.
Stir until it acquires a nice consistency.
Place in covered bottle and let the oils synergize for 24 hours.
This blend can be used as a massage oil or in a warm bedtime bath.
Release trapped tension by massaging figure eight movements on your chest.
Apply massage oil around ears, under nose, on temples, and on throat anytime you need to invite relaxation and inner peace.
Silently offer yourself positive thoughts and feelings of balance and harmony.  
Recipes For Botanical Body Mists For Menopause Support
Calm Cool Collected Menopause Mist
A cool down for hot flashes.
Ingredients to make 4 ounces:
1/2 cup purified water
6 drops lavender oil
5 drops bergamot oil
5 drops rose oil
Directions:
In a spritzer bottle combine the oils.
Add the water to the oils.
Shake until well combined.
Lightly mist face or body to cool hot flashes as needed. 
Ultra-Refreshing Peppermint Lavender Mist
Cooling and aromatic, peppermint oil reduces discomfort of hot flashes, while lavender lifts your mood.
Ingredients to make 4 ounces:
1/2 cup purified water
10 drops lavender oil
6 drops peppermint oil
Directions:
Mix oils and water in spritzer bottle.
Shake before use.
Spray 1-2 times on face and body whenever you are feeling hot or anxious.
Spray in the air several times to gently scent your environment.
Mind, Body & Soul Soak
Ease through the experience of menopause with comfort and relaxation.  Promote a restful sleep ritual with a body sensing scan.
Ingredients:
1/2 cup milk or coconut milk
7 drops essential oil
Directions:
Pour into a hot bath.
Before bathing, restore a sense of self and wellbeing by taking several deep breaths in and SIGH the breath out.  Once you feel at ease settle into your soak.
As you bathe, soften and close your eyes. Feel your facial muscles soften and relax.
Rest for a few breaths.
With no hurry or rush, scan your whole body for areas of gripping, tension, or stress.
Stay free of judgement of your body.
Keep your mind relaxed, your body relaxed.
With a quality of intimacy and love give yourself extra time on areas that are tight or in need of extra attention.
Shift from stress to relaxation during this important turning point in your life.