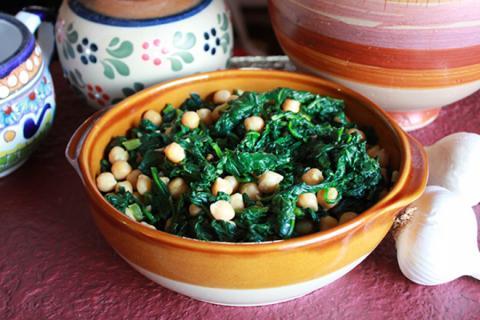 Want to eat more plant-based meals? Filling your diet with lots of plants is easy when you have an assortment of simple, tasty recipes that you can reliably turn to, even in the busiest of times. Today's Meatless Monday recipe is one of those keepers. Chickpeas with spinach is a recipe that's easy to get onto your table. It's a simple dish that becomes a lightning quick one if you opt for canned chickpeas; and since it stores well, it's good for meal planning and/or saving for later. Plus, you can add and build on it if you wish. Simple + adaptable + delicious = yes, please!
What To Eat?
These days, the seemingly simple question of what to eat can send many of us into a tailspin, but in reality, it doesn't have to be so complicated. We have many interesting diets to choose from now—keto, Whole30, raw food, paleo, vegan, macrobiotic, vegetarian, gluten-free—each with a legion of loyal proponents. Some of these diets require more of a learning curve than others, and while they all have advantages, I don't believe any one diet will work optimally for everyone, or in all stages of one's life.  
For someone who is generally healthy and wants to improve the way she eats, I always recommend a whole food, plant-based diet as the best first option. I strongly stress the world whole, meaning real and non-processed; when I say first option, I mean try this first, and then depending on how you feel, perhaps tweak it or try some of the other diets I mentioned.
Some people view experimenting with new ways of eating with enthusiasm; others see it as a chore. The best diet is the one that you enjoy and that you can stick to with grace. After all, the point of eating well is to create more space in your life for joy, as opposed to creating constriction through obsession. Complicated diets don't usually work for busy people, unless you have a group of people to look after you. A diet rich in whole organic plants is a good option for many of us, and it's a realistic way of eating because it's simple and non-restrictive. Most of us can easily distinguish real, whole food from not, and we can find whole plant-based options pretty much everywhere. And in the event that the healthy plant-based eater finds herself in a situation where dining options are less than optimal (hello, airports), she chooses what will bring her the most joy and moves on. Wellness without obsession is the order of the (happy) day.
How To Make Chickpeas With Spinach
Chickpeas, or garbanzos, with spinach is a traditional Spanish dish found in both home cooking and tapas bars. There are few places where chickpeas are as popular as they are in Spain. Consequently, there are many iterations of this dish, but the general idea remains the same: tender, slightly nutty tasting chickpeas offset by the bitter flavor of fresh spinach. Here are a few things to consider when making it:
Soaking legumes yields the best flavor and requires little effort, but it does of course require more (largely unattended) prep time. I'm definitely a fan of soaking beans, but you can give yourself a little more wriggle room by using canned chickpeas. If you opt for this route, the whole dish will be done in about 30 minutes.
Spinach is naturally bitter. If you'd like less bitterness, opt for baby spinach. If you want even less bitterness, discard the stalks.
If you want a more substantial meal, put a fried or poached egg on it.
Many of us are interested in eating more plants or helping our loved ones to do so. One important key to adopting healthy, long-lasting eating habits is to develop a repertoire of easy, delicious recipes. After spending some time experimenting with plant-based recipes, you might find that you feel better; and feeling better has this almost magical way of making life a lot more enjoyable. And, yes, it can really be that simple.
Chickpeas With Spinach
(Vegan, Gluten-Free)
Serves: 4
Prep Time: 1 hour, 15 minutes (15 minutes if using canned chickpeas)
Cook Time: 1 hour, 15 minutes (15 minutes if using canned chickpeas)
Total Time: 2 hours, 30 minutes (30 minutes if using canned chickpeas)
Ingredients
1 cup dried chickpeas, picked over & rinsed
2 Tablespoons extra-virgin olive oil
1 clove garlic, finely chopped
1/2 cup chopped green bell pepper
2 pounds fresh spinach, washed & stemmed
sea or pink Himalayan salt to taste
Directions
Soak the dried beans in water overnight.
Drain, rinse, and place them in a large saucepan.
Cover them with water and bring to boil over medium heat. Reduce the heat to a simmer and cook for 45 minutes.
Add a pinch of salt, and cook for 15 more minutes, until tender, for a total cooking time of about 1 hour. Drain and set aside.
In a large skillet, heat the oil over moderately high heat.
Add the garlic and green bell pepper. Cook until the garlic is lightly browned and the green pepper is softened.
Add the spinach and cook until wilted.
Add the cooked chickpeas, season with salt and pepper, and heat through before serving.
Additional Cooking Notes
Try adding 1/2 teaspoon of hot smoked Spanish paprika in step 2 if you like to add a little kick to your chickpeas with spinach.
Photos by Shiraz Leyva