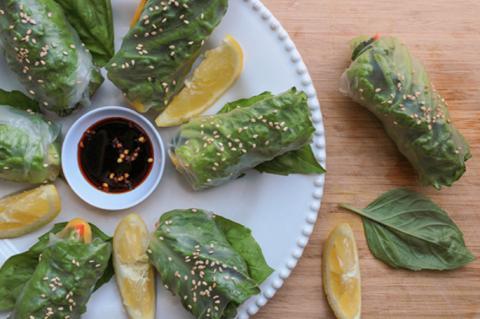 When the heat starts to mount, we all crave more fresh food, and recipes that don't require a stove suddenly seem like a very good idea. Whether you're making food for a party or eating solo at home on a warm day, today's recipe is going to make you very happy. Vegan spring rolls with avocado and mango are a definite crowd pleaser—I mean, who doesn't love food that comes in its own edible package? Plus, this recipe is nutrient-dense and easy enough to be filed into the recipes-for-overworked-days category. And for all of you who love the spring rolls at your local Vietnamese spot, you're going to be especially delighted at how easily you can create a little spring roll heaven right in your own kitchen.
Vegan Spring Rolls: Go Ahead, Mix It Up
There are lots of things to love about homemade spring rolls. First, let's talk options. You can put many different things—provided they're edible, of course—inside rice paper: veggies, herbs, meat, seafood, fruit, flowers. I like to balance savory, sweet, and salty, but often (happily) find that whatever I have on hand does the trick. Consider adapting this recipe based on what's in your fridge or garden at any given time, how creative you're feeling, or who will be eating. With so many options, you can pack quite a lot of nutrition into your spring rolls and make a lot of people happy without too much thought or effort.
Oh, and the plate appeal: the different colors and textures of the greens, mango, and cucumber in this recipe will produce a pretty spring roll, but if you want to take it up a notch, edible flowers like pansies add a lovely touch.  Considering all that spring rolls have to offer, you might be wondering: why have I not made spring rolls before? Which brings me to…
As In All Things, Practice Makes Perfect
Order spring rolls at a Vietnamese restaurant and watch as everyone eats, happily. I've yet to meet someone who doesn't like them, yet few of us make spring rolls at home.  I think many of us have this idea that wrapping a spring roll is challenging. It's true that your spring rolls will look better with practice, but outside of a few broken wrappers, there's not too much at stake. With a few pointers you'll be happily making spring rolls in no time.
First, about those broken wrappers: no one enjoys filling a spring roll with the perfect assortment of ingredients only to have it break as it's wrapped. To minimize this possibility, use warm—not too warm—water when prepping your rice paper. Also, when using large, leafy greens, lay those down first—this will prevent the edges of julienned vegetables like carrots from poking through the rice paper. Oh and don't overstuff; it's no fun to have to manhandle a spring roll.
My third and final caveat has to do with how to wrap. Wrap your spring roll like you wrap a burrito. Fold the bottom up first, then the sides. It might take a few tries to work this all out, but you'll be able to fill your tummy with all your delicious mistakes in the process. In the kitchen, as in life, reframing is a sure path to happiness.  
Vegan Spring Rolls With Avocado & Mango (Gluten-Free)
Serves: 4 servings of 3 spring rolls each
Prep Time: 30 minutes
Cook Time: 0
Total Time: 30 minutes
Ingredients
12 spring roll/rice paper wrappers
12 romaine lettuce leaves, trimmed
3 avocados, peeled, pitted, and sliced
sea or pink Himalayan salt
2 mangos, peeled, pitted, and thinly sliced
2 carrots, julienned
1 English cucumber, julienned
1 bunch fresh cilantro leaves
1 bunch fresh mint leaves
1 bunch fresh basil leaves
Directions
If you're making peanut sauce (see note below) for your spring rolls, do that first. Then prep your workspace for filling the spring rolls. Place the ingredients in front of a spacious, flat, clean workspace, like a cutting board.
Prepare the spring roll wrappers according to the package instructions. After each one is prepped, lay it flat on the cutting board.
Fill the spring rolls: place each filling ingredient in the center of the rice paper, beginning with the romaine and avocado. Add a little salt to the avocado, then top with the remaining ingredients.
Additional Cooking Notes
Photos by Shiraz Leyva