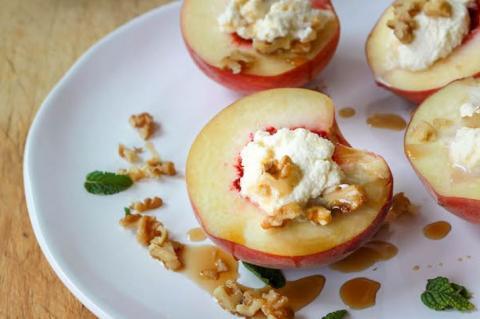 Summer and peaches go together just like summer and barbeques, so it's no surprise that someone came up with the brilliant idea of putting peaches on the grill. Grilling peaches is an easy way to transform them into a no-fuss dessert without turning on the oven (no offense, peach pie). After the peaches are warm and soft, add dollops of ricotta cheese, and there's a high probability you'll create happiness all around your table. But before you take the recipe below and set off to create your gift of dessert, I've got a few suggestions to make your grilled peaches with ricotta great.
Tips For Making Easy Grilled Peaches With Ricotta
1. Get the best peaches possible. Quality ingredients are important, but they become even more so when making simple recipes like this. I recommend yellow peaches here, which have a more intense flavor than their white counterparts, but both types can work. Either way, opt for ripe but still firm peaches.
2. Speaking of ingredients, choose full-fat ricotta. You want your peaches to bask in the decadent goodness that only whole dairy can offer.
3. Don't let not having a grill stop you. Sure, summer is all about enjoying time outdoors, but chances are you might be reading this on a workday and your cooking medium this evening is a stove. Don't worry: a grill pan and a stove will work just fine here. No grill pan? Use a sauté pan. You won't have the option to create grill marks on your peaches, but you'll still have warm, soft, delicious, spiced peaches. I'm all about making delicious, homecooked dinner a reality, and I hope you are too.
4. Don't skip the spiced oil. Warming the ginger in oil, as instructed below, releases its warm, spicy, earthy flavor that will complement the peaches beautifully. My preferred oil here is ghee both for its caramel flavor and high smoke point.
Everyone has their love language, but food is universal. Despite the many ways that we humans have complicated it, food still has the ability to nourish us in ways well beyond quantifiable vitamins and minerals. If you have the power to make someone happy, by all means, do it; whether you're cooking for guests at your summer barbeque, or for yourself, food can be your medium to express love. And don't forget: the dinner that you make after work can be some of the best dinner ever; just keep it simple and cook with intention, and you can't go wrong.
Grilled Summer Peaches With Ricotta
(Vegetarian, Gluten-Free)
Serves: 4
Prep Time: 10 minutes
Cook Time:  15 minutes
Total Time: 25 minutes
Ingredients
2 Tablespoons ghee, coconut oil, or butter
1/2 teaspoon real vanilla extract
1/2 teaspoon ground ginger
4 peaches (ripe but still firm), cut in half and pitted
1/2 cup whole-milk ricotta cheese
1/2 of a lemon
3 Tablespoons raw organic honey or maple syrup
1/2 teaspoon sea or pink Himalayan salt
3 Tablespoons chopped walnuts or pistachios
2 Tablespoons fresh mint, chopped or torn by hand
Directions
Heat the ghee or other oil in a small saucepan over medium low heat. Add the vanilla and ginger, stir, and cook gently for about five minutes, or until fragrant but not burnt. Remove from heat and set aside.
Heat a grill or grill pan over medium heat. While the grill or pan is heating, brush the cut sides of the peaches with the spice infused oil.
When the pan is hot, cook the peaches cut side down, for 4 minutes, until grill marks form. Turn and cook for 4 minutes more. Remove the peaches carefully—they will be soft and very warm—and place them in individual serving bowls.
Plate the peaches with dollops of ricotta, drizzle with lemon juice, honey, or maple syrup, and top with chopped walnuts or pistachios, garnish with mint, and serve.
Additional Cooking Notes
If you don't have access to a grill, you can make these peaches in a grill pan or even a sauté pan. Using a sauté pan will give you a slightly different outcome, but it's still well worth it. If you chose this route, you can cook the peaches directly in the oil, just be careful not to burn the spices. 
Instead of ricotta, you can serve these peaches with ice cream, of course.
Photos by Shiraz Leyva