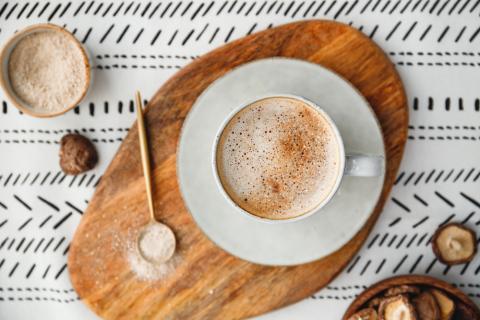 One of the best parts about waking up in the morning is that cup of coffee or if you're anything like me, it's that warm cup of latte! There's just something about nursing a warm and hearty beverage first thing in the morning. 
There is no doubt that coffee is one of the world's most popular beverages but is it good for us? It depends on whom you ask! 
Coffee: The Good
There are a lot of nutrients in coffee such as B vitamins, manganese, potassium, and magnesium, as well as antioxidants. 
There is some evidence that coffee may lower your risk of Type 2 diabetes, Parkinson's, Alzheimer's disease, dementia, liver disease, stroke, and even certain types of cancer. It may also protect your heart, help fight depression, improve metabolism and energy levels, and make you smarter!
Coffee: The Bad
There are also risks associated with drinking too much coffee. 
These include bone fractures, endometriosis, gastroesophageal reflux disease, anxiety, and lack of sleep. It also leads to elevated urinary excretion of important minerals and can interfere with normal drug metabolism and detoxification in the liver. 
Caffeine is the most commonly consumed psychoactive substance in the world. It is highly addictive, increases your stress hormones, decreases insulin sensitivity, and affects your sleep which is extremely important for your overall health. 
There are also toxic chemicals such as mycotoxins and acrylamide that can contaminate coffee as a natural product.
As with any other substance, you'll have to decide if the benefits of drinking coffee outweigh the risks. The way I look at it is that there are healthier ways to get the nutrients and benefits that coffee can potentially provide without the potentially harmful effects that it might have on our health. But I still love nursing that warm beverage in the morning and afternoon and even in the evening! And while I love herbal teas, they just don't do the trick. So, I went on the hunt for coffee alternatives and here are 3 of my favorites! 
Chicory Root Latte
If you want something that tastes close to coffee, then this is for you. Chicory root contains prebiotics that feed the good bacteria (probiotics) in your gut. It can be enjoyed at any time of the day!  Chicory root latte is also great on ice. Follow the same steps except use cold milk and pour over ice. 
Ingredients
2 Tablespoons organic roasted chicory root
1/3 cup filtered hot water
1 teaspoon almond or vanilla extract
2/3 cup almond milk
1/2 teaspoon agave syrup (optional)
Directions
Put the chicory root in a teapot, add hot water, and let it sit for 5 minutes.
Steam or heat the almond milk.
Put vanilla or almond extract, agave syrup (if using), and the milk in a high-speed blender.
Add the chicory mixture using a sieve and blend for 20 seconds.
Pour in your favorite mug and enjoy!
Turmeric Latte
Turmeric has a lot of great health benefits. It is anti-inflammatory, is a great pain reliever, improves liver function and digestion, and can aid in sleep. 
Ingredients
1 teaspoon finely ground turmeric powder
1/2 teaspoon ground cinnamon
1/2 teaspoons ground ginger
1/8 teaspoon cayenne pepper (optional)
1/2 teaspoons agave syrup
2 teaspoons coconut oil
1 cup coconut milk
Directions
Steam or heat the milk and pour in a high-speed blender.
Add the rest of the ingredients and blend for 30 seconds.
Pour in your mug and enjoy! 
Chaga Mushroom Latte
Chaga mushroom is a nutrient-dense superfood. It helps boost the immune system; lowers blood sugar, cholesterol, and blood pressure; fights inflammation; and slows the aging process. 
A few notes on this recipe…Lavender oil is one of the few essential oils that are safe to ingest in very small amounts (no more than 5 drops). Be sure to invest in good quality pure lavender oil. You can replace chaga mushroom powder with reishi mushroom powder and omit the maca root powder to turn this recipe into a moon milk that can be enjoyed in the evening for better sleep. Maca powder is a great caffeine replacement as it boosts energy and endurance. It also improves mood, fights free radicals, reduces blood pressure and sun damage, and increases libido. 
Ingredients
1 teaspoon chaga mushroom powder
1 teaspoon organic maca root powder (optional)
1/2 teaspoon agave syrup    
1/8 teaspoon salt      
1 Tablespoon olive oil                
1 teaspoon vanilla extract                                     
1-2 drops pure lavender essential oil (optional)          
Directions
Steam or heat the milk and pour in a high-speed blender.
Add the rest of the ingredients and blend for 30 seconds.
Pour in your mug and enjoy! 
Does this mean that I never drink coffee anymore? No! But I've reduced my coffee intake from daily to once or twice a week and instead I enjoy these other delicious beverages and I can say that I don't miss coffee at all.