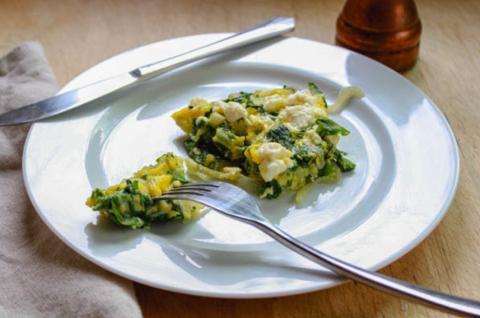 September is the time to get back to cooking. The flighty energy of summer is past, and the heat is lessening. Fall is a season of introspection, and in some traditions, it's the start of the new year. Cooking is a wonderful accompaniment to going inward and beginning anew. Regardless of how summer went—maybe (a few too many) margaritas, reluctant meals in airports, the occasional healthy-ish dessert—it's opportune time to get back into the kitchen and create a fresh start. Eggs, and specifically frittatas, are great this time of year. Whether you want to quickly get something healthy on the table or practice quiet, meditative cooking, a frittata—here we're doing it with Swiss chard—is a wonderful choice.
Frittata: Let Us Count The Ways
A frittata makes it easy to have a good meal. Eggs are a complete protein, and when you deck them out with oodles of vegetables and morsels of tangy goat cheese, what you have is a delicious, healthy, real food meal. Serve it with toast and a salad, and the entire meal will be done in 45 minutes, max. Plus, you'll get plenty of plate appeal. We eat with our eyes as well as our sense of smell and taste. With much texture and varied color, a frittata is a delight for the eyes.
When Should I Serve A Frittata?
Frittatas are a dream for both brunches and casual group dinners. They differ from omelets in that they're meant for sharing (they also require less work since the fillings are cooked in the egg, as opposed to folded inside). Since most of us have a few skillets of various sizes in our kitchens, it's usually easy to double a frittata recipe to accommodate more people. Just keep in mind that you'll end up with a thicker frittata which will require longer cooking, unless you use a larger pan. (Conversely, reducing the recipe will require a smaller pan and less cooking time.) Any leftovers can be stored in the refrigerator for a day. Also, since a number of vegetables will work in a frittata, this is a dish which you can adjust to accommodate picky eaters, showcase a variety of garden fresh produce you might have on hand, or clear out your veggie drawer.  
How To Make A Frittata
Cooking is all about nuance. Frittatas have a rustic quality that makes them easy to make but attentive practice will teach you exactly how you like it. Eggs, because they are such shape shifters in the kitchen, are particularly great cooking teachers. This frittata recipe makes a creamy, veggie-rich frittata. If you use a different sized pan, just make sure to watch the eggs so you don't end up with an undercooked or overcooked frittata—I mentioned this above, but it's worth a second reminder. Also, take care not to overcook the vegetables. Overcooked vegetables will become watery and effect texture. If you'd like a browned top on your frittata, finish it in a broiler as opposed to the oven (step 6 below). A few minutes should do it, but again, watch the pan—you don't want to turn your gorgeous, unctuous frittata into a dry sponge.
Adaptability is an asset, and it's no different for plants and food. In some places like California, Swiss chard grows year round, although it's particularly good in the cooler fall and spring. A frittata has a similarly adaptable, quotidian quality—you can easily put it together on the busiest of days; yet, if you can find time to relax into the cooking process—to discover just how soft the vegetables should be, how the egg looks before it's time to go into the oven, how long to cook the frittata in your particular oven so it comes out just right—it will taste that much better. When you're able to cherish the ordinary details of life in these small, intimate ways, magic can happen. And that's a great way to start any season.
Frittata With Swiss Chard (Vegetarian, Gluten-Free)
Total Time: 25 minutes
Serves: 4
Ingredients
7 large Swiss chard leaves, stems and leaves separated
6 large eggs
2 Tablespoons heavy cream or whole milk
1 Tablespoon extra-virgin olive oil
1 Tablespoon ghee
1 onion, thinly sliced
2 cloves of garlic, minced
1/2 cup goat cheese, crumbled
Directions
Thinly slice the Swiss chard stems and coarsely chop the leaves.
Preheat the oven to 400 degrees Fahrenheit.
In a medium bowl, beat the eggs, cream or milk, and 1/4 teaspoon each of salt and pepper. Set aside.
In a medium sized skillet (9-10 inches), heat the olive oil and ghee. Add the onion, garlic, and Swiss chard stems. Cook, stirring frequently, over moderate heat, for about 4 minutes.
Stir in the chopped Swiss chard leaves and cook for 2 minutes more, until wilting. Add a pinch of salt and stir.  
Pour the egg mixture over the vegetables, making sure the egg is evenly distributed, and cook for a few minutes, until the mixture starts to set but is still runny in the center. Reduce the heat to medium low and sprinkle with cheese.
Transfer the frittata to the oven and bake until just set, 7-10 minutes. Remove from the oven and let sit for a few minutes. Serve the frittata warm or at room temperature.
Photos by Shiraz Leyva