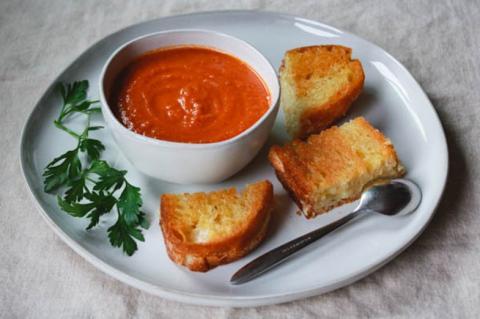 Early fall is a special time to set yourself up for the holiday season. Eat with intention now and fall will gracefully blossom into a manageable, even magical, winter. Seasonal fall/winter food is warming, comforting, and grounding. With the season in mind, today we're cooking a creamy tomato soup with a side of crusty grilled cheese. Simple and a little luscious, it's just the thing to satisfy you before you jump into the season's roasting, baking, pie, and parties.
Self-Care In Fall
On one hand, fall has a quality of introspection; on the other, it marks the beginning of the hyper-social holiday season. How to sort out this seeming entanglement of stillness and motion all packed into a single season? Think of early fall as a time for assessment. This transitional time offers an opportunity to reflect and prime yourself for the bustle of the holidays, before diving deep into the stillness of winter. Now is the time to journal, pamper your body, and adjust your exercise routine and diet to suit your body's changing seasonal needs.
The Ritual (& Comfort) Of Tomato Soup & Grilled Cheese
The fall window before the holidays begin is an ideal time to think about the experience of eating. As we've talked about before, the traditional fall diet includes lots of seasonal fruit, root vegetables, increased amounts of fat and protein, and hearty stews. Eating healthy plant-based foods with a little added richness like today's creamy tomato soup will gently segue you into the season's heavier foods. This easy recipe will leave you with time for the introspection and self-care that's so valuable this time of year, but also, if you consider cooking as part of a larger ritual, it can be an act of self-discovery in and of itself.
A ritual is something we do again and again with intention and mindfulness. Like a yoga practice, a cooking ritual provides structure which frees you to see inward. When you're able to get quiet and relax into a ritual, feelings that can get drowned out by daily activities tend to rise to the surface. Food connects you to the larger world of nature and all the people who participate in the food system, but it can also help you connect to yourself. Plus, as the holiday season gets underway, throughout the parties, drinks, late nights, and all the delicious sweets, a cooking ritual will remind you of your unwavering commitment to your health. And that's the kind of awareness that will support you well beyond the holiday season.
Roasted Tomato Soup With Grilled Cheese (Vegetarian)
Serves: 4
Total Time: 1 hour
Ingredients
2 Tablespoons + 4 Tablespoons ghee, unsalted butter, or extra-virgin olive oil
1/2 medium onion, diced
1 large clove garlic, minced
1/2 teaspoon red pepper flakes
1/4 cup dried apricots, chopped
sea or pink Himalayan salt and freshly ground black pepper
2 Tablespoons tomato paste
1 28-ounce can fire roasted tomatoes
2 cups vegetable broth or water
1 bay leaf
1/4 cup heavy cream
8 slices of crusty bread
1/2 cup grated cheddar cheese
Directions
Heat 2 tablespoons of ghee, butter, or olive oil in a medium saucepan over medium heat. Stir in the onion and celery and sauté until the onion is very soft, around 8 minutes.
Add the garlic, red pepper flakes, and apricots and cook an additional minute. Season generously with salt and pepper.
Add the tomato paste and cook an additional two minutes.
Add the tomatoes with their juices, broth or water, and bay leaf and bring to a simmer. Cook for 45 minutes, remove from the flame, and allow the soup to cool slightly.
Remove the bay leaf from the soup and stir in the cream. 
Puree using either a blender stick or a stand blender until smooth. Taste and adjust the seasoning.
Make the grilled cheese: Heat a large skillet over medium heat. Divide the remaining 4 tablespoons of ghee, butter, or olive oil and spread over one side of each of the eight pieces of bread.
Lay the four slices of bread, buttered side down, in the skillet, top with cheese, and cover with the remaining bread slices. Cook for about 3 minutes, flip, and cook for an additional 3 minutes, until the cheese is melted and the bread is golden brown.
Cut the grilled cheese sandwiches into portions sized for dipping and serve hot with the tomato soup.
Photos by Shiraz Leyva