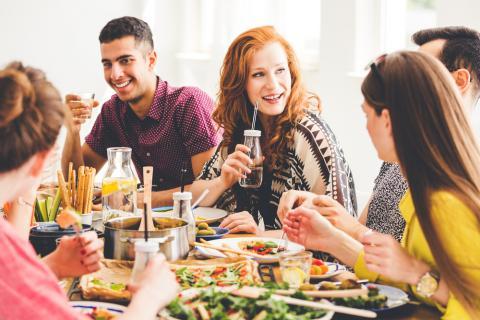 A four-course vegan meal to awaken your senses, nourish your body, and create a memorable night with friends. 
Having friends over for a four-course vegan dinner is easier than you think! Keep reading for all the information you need to host a wonderful evening for four people.
Menu
Appetizer: Tequila Avocado Toast 
Soup: Rustic Tortilla Soup
Main Course: Exotic Mushroom Tofu Scramble
Dessert: Berries & Cream Crunch
Select the Wine: This meal goes well with a Sauvignon blanc or a dry Riesling.
Set the table, light some candles, and put on some dinner music (Opera is my go-to but Jazz is always nice too).
Tequila Avocado Toast
Note: You can always replace the bread with gluten-free bread. My favorite is buckwheat bread. 
Ingredients
1 large or 2 medium avocados
1/4 teaspoon red pepper flakes
1/2 lime, juiced                            
1/2 Tablespoon tequila                                    
1/2 teaspoon grey salt                                   
8 slices whole grain bread (about 4" x 2" each slice)
Directions
Scoop the meat out of the avocado into a medium-sized bowl. Smash it a little bit (or a lot) with a fork. It really depends on whether you want a creamy blend of flavors or chunks and pops of flavor. 
Add red pepper flakes and tequila and mix with the avocado. 
Toast the slices of bread by placing them on a sheet pan in the oven at 350 degrees until they're toasted. Crunchy is the goal here to contrast the softness of the avocado.
Smear a generous amount of the avocado mash on the toasted bread.
Top with a squeeze of lime juice, grey salt, and more red pepper flakes, if desired.
Appetizer served!
Rustic Tortilla Soup
Note:  Cassava chips are a great gluten-free substitute for tortilla chips. 
Ingredients
28 ounces fire-roasted tomatoes                    
2 cups (16 ounces) fresh or frozen corn
1 medium white onion                              
2-3 garlic cloves                             
3 Tablespoons coconut oil                                   
3 cups (24 ounces) vegetable broth                                  
2 teaspoons cumin                                                  
1/2 teaspoon cayenne                                              
3 Tablespoons tomato paste                                   
1 teaspoon salt                                                   
1/2 teaspoon black pepper                                     
3 Tablespoons lime juice                                          
2 medium avocados, cubed
4 Tablespoons cilantro, roughly chopped
2 cups tortilla chips                                       
2 Tablespoons jalapeno, thinly sliced
Directions
Lightly blend 1 cup of corn, tomatoes, and tomato paste in a high-speed blender and set aside. 
Heat the oil in a medium-sized pot. Add the white onions and sauté until they are translucent.
Add the salt, black pepper, cayenne, cumin, and garlic and sauté for another 2-3 minutes.
Add in the corn and tomato mixture and vegetable broth and cover. Cook for 30 minutes or until the onions are completely cooked.
Mix in the fresh corn and cook for another 5 minutes.
Turn off the heat and stir in the lime juice. 
Put half of an avocado (cubed) in each serving bowl.
Pour in the soup with a ladle. Make sure you get some of the goodness on the bottom in every bowl.
Top with avocado, jalapeno slices, cilantro, and crushed tortilla chips and serve. 
Exotic Mushroom Tofu Scramble
Recipe Notes
Always buy organic soy products, including tofu. If you're new to cooking tofu, remember that it requires a lot of seasoning, herbs, and flavors. It is best to taste and adjust as you go and add more if needed. 
Always buy raw whole nuts. Toasting, grinding, and slicing nuts and seeds causes them to oxidize quickly. It is best to purchase them raw and toast, grind and slice when you want to use them. For extra flavor, toast the pine nuts in a cast-iron skillet. Watch them as they toast. They go from toasted to burnt quickly. 
If you've never heard of maitake and/or oyster mushrooms you've been missing out! You can find them at farmers markets and health food stores. They are powerhouses of nutrients and great for the immune system as well as a great source of plant protein. 
You can always pair this with a side salad of arugula with a simple lemon juice and olive oil dressing. 
Ingredients
16 ounces organic sprouted tofu                     
2 maitake mushrooms                            
3-4 medium oyster mushrooms                           
8 ounces shitake mushrooms                          
8 ounces baby Portabella mushrooms             
1 small white onion                                      
3 Tablespoons olive oil                                              
1/2 cup almond or other nondairy milk        
1/4 cup white wine                                         
1 teaspoon turmeric powder                              
1 Tablespoon fresh or dry thyme                           
1-2 Tablespoons fresh oregano (optional)                  
3 Tablespoons nutritional yeast                                 
1/4 cup toasted pine nuts                              
1/2 teaspoon salt                                                      
1/4 teaspoon black pepper                                      
1/4 teaspoon cayenne                                              
Directions
Strain the tofu in a metal strainer and let it sit. You can put something heavy like a bowl filled with beans on top of it to get more of the water out. 
Clean and slice the mushrooms into bite-sized pieces.
Heat a large pan to a high temperature on the stove, and then place in all the mushrooms or place them in batches. Cook mushrooms down until all their water has been cooked out. Remove mushrooms from pan onto a plate or bowl.
Now add in the olive oil & diced onions. Sautee until the onions are translucent, or longer (until they have become caramelized).
Now add the mushrooms back into the pan and toss. 
Crumble the tofu with your hands and add it to the pan with the mushrooms and onions.
Cook, toss, and stir to get the tofu to crisp up and meld with everything in the pan.
Now season with salt, pepper, cayenne, turmeric powder, and nutritional yeast. Cook for 2-3 minutes.
Add the white wine and cook for another 2-3 minutes to help cook out the alcohol.
Stir in the thyme, add the milk on top, mix, and cover.
Cook for 5 minutes or until most of the liquid is absorbed.
Top with toasted pine nuts and freshly chopped oregano and plate. 
And dinner is served!
Berries & Cream Crunch 
This recipe is adaptable. You can use any variety of berries that you like. You can also replace cashews with almonds but you'll have to soak them in hot water overnight and take the skin off. 
Ingredients
1 cup strawberries                                     
1/2 cup raspberries                                        
1/2 cup blackberries                                       
1/2 cup cashews (or presoaked almonds with skins removed)
1/4 cup water (or more)                                                 
2 Tablespoons agave                                                 
1 Tablespoon Grand Marnier (optional)                 
1/3 cup walnuts, roughly chopped
1/3 cup bread crumbs                          
Directions
Wash the berries. Slice the strawberries into rings and set aside. 
Toss the walnuts with 1 tablespoon of agave and breadcrumbs.
Heat a small pan and add the coated walnuts. Toast for 2-3 minutes or until they are fragrant and walnuts are golden brown. Set aside to cool down. 
Add cashews, remaining agave, Grand Marnier (if using), and water to a high-speed blender and blend until creamy. 
Divide the berries into four serving bowls.
Pour the cream over them and top with chopped candied walnuts. 
Enjoy!
There are some people in life that make you laugh a little louder, smile a little bigger, and live just a little bit better.  Those are the ones that you'd want to share a meal with so don't hesitate! Send an invite, make a kind vegan dinner and laugh loud, smile big, and live a little better in their company! 
Recipes by Todd Douphner and Sara Saidy