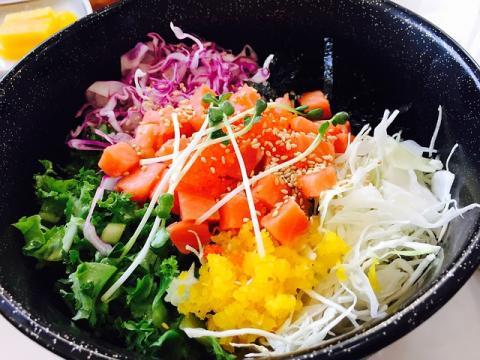 In the midst of summer heat, the last thing you want to do is turn the oven on, right? Don't sweat it; I have the perfect solution. Leave the sushi rolling to the master chefs and opt for a vegan, gluten-free sushi bowl instead! These easy, delicious bowls bursting with all of the traditional flavors of your favorite veggie sushi roll will leave your tummy full and your home cool.
Makes 4 bowls
Ingredients:
1 ½ cups short-grain rice (rinsed)
1 ½ cups plus 2 tbs. water
8 tsp. rice vinegar
1 ½ tbs. sugar
½ tsp. salt
2 sheets of nori (dried seaweed)
Toasted sesame seeds
1 cucumber
2 avocados
2 medium-sized carrots
Gluten-free soy sauce (tamari, liquid aminos, etc.)
Directions:
-Combine rice and water in rice cooker and cook according to its instructions. If you don't have a rice cooker, bring mixture to boil in saucepan, cover with lid, and reduce heat to low. (The latter cooking method should be done in about 20 minutes).
-Meanwhile, cook vinegar, sugar, and salt in saucepan over medium heat until sugar dissolves.
-Gently fold vinegar mixture into cooked rice and let cool.
-Meanwhile, cut nori into small, thin strips (scissors work well here). Then, finely chop cucumber, avocado, and carrot.
-Grab a bowl, fill it with seasoned sticky rice, and top it off with chopped veggies, nori, and sesame seeds. Don't forget to add some gluten-free soy sauce and enjoy!