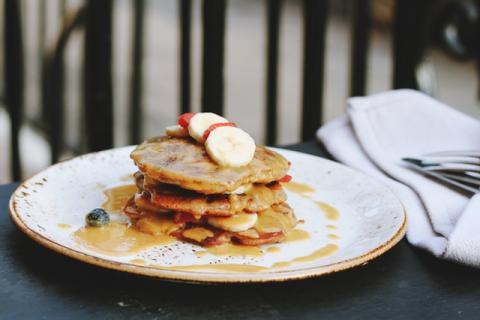 With the winter weather upon us, I always look for ways to incorporate seasonal flavors, especially warming spices, into my favorite recipes. After hearing how good These pancakes were, we decided to try them gluten free. This recipe is adapted from Food.com to make them a better texture for gluten-free flours.
Gingerbread pancakes
Ingredients:
1 cup gluten-free pancake mix, such as Arrowhead Mills  
½ tsp salt
2¼ tsp baking powder
1 tbsp coconut flour
1 tbsp cinnamon
½ tsp fresh ginger, finely chopped or crushed
1/4 tsp allspice
1/4 tsp nutmeg
1/8 tsp clove
1 large egg
1 1/4 cup buttermilk
6 tbsp butter or cooking oil, melted
optional: chopped walnuts or pecans
Directions:
Combine dry ingredients in large mixing bowl. In separate bowl, combine buttermilk, egg and butter and mix well. Combine both together in mixing bowl and ladle onto well-oiled griddle or medium-large pan. Cook over medium-low heat for roughly 5-10 minutes, flipping when small bubbles rise on the top of the pancakes.
We found these to be the best texture for gluten-free flours, but those who like a grainier texture might want to substitute more coconut flour or cornmeal flour for some of the pancake mix. 
Top with butter, syrup, coconut sugar, pumpkin butter -- practically anything will taste good on top of these!