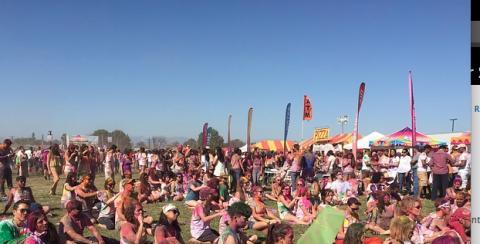 Festival season is on! How better to spend Summer days than meeting ecstatic people, indulging in your favorite music, and dancing through the warm nights.
While music festivals remain a popular way to gather for the summer, many festivals are stepping it up a notch by offering community-based activities for festival-goers. These festivals are based on sustainability, transformation, and a way for healers to gather and healing to take place in a pleasant atmosphere, where the good vibes happen whether you're in a gardening class or front and center by the biggest stage.
Some of these festivals include Lightning In A Bottle (California), Wakarusa (Arkansas) and Symbiosis Gathering (California). There are many, many other festivals that offer this level of harmony as the focus of the festival.
In this article I'll demonstrate some of the amazing opportunities these types of festivals provide by describing one that I have attended and gotten a lot out of: Symbiosis Gathering, which offers the chance to participate in an intentional community, do yoga, and learn about permaculture – along with tea drinking and/or partying as much as you'd like.
Symbiosis is hosting some phenomenal guest speakers this year. A few of them include: Vandana Shiva, who states "we can meet the 2 degree emissions gap by 2020 with carbon sequestering organic agriculture," Wiwona Laduke, who will speak about creating a multicultural democracy, and David Abrahm, who encourages the return to our senses.
For the ambitious yoga or permaculture students, there are 5-day intensive workshops that coincide with the festival. There are also numerous daily yoga and homesteading classes open to all festival-goers. A few interesting courses include community building, fire making, bowl making, yoga nidra, and many more.
Symbiosis Gathering is where young music festival goers can get into timeless traditions like sharing tea or creating community. It's where vastly varied cultures blend together, creating one that is entirely new. It's where you'll find a thousand new friends who – just like you – are bright, conscious, and striving to save the world.