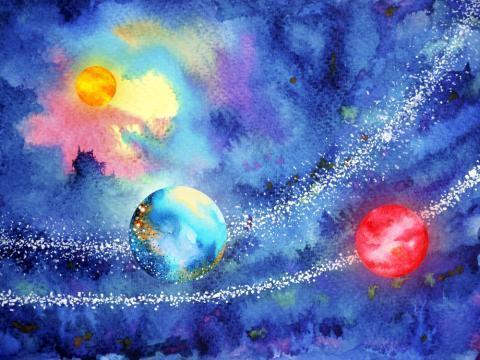 The Karmic Tools Weekly Forecast covers the current planetary transits which affect people in different ways and to various degrees of intensity.  Take notice when it is a Personal planet (Sun / Moon / Mercury / Venus / Mars) interacting with a Social (Jupiter / Saturn) or Collective planet (Uranus / Neptune / Pluto).  And pay extremely close attention when it is a Social planet interacting with a Collective planet because that means something big is brewing that will move large groups of people along their evolutionary paths. Tuning in to the energy and rhythm of the planets can serve as a useful guide as you move along your Individual Path.  It also helps to understand your place within the context of the larger Social & Collective Story. Below, you will find out how these energies tend to manifest, as well as guidance and direction.  NOTE:  There are some days when there are NO CONTACTS (besides the Moon);  there are no missing entries, we just list the actual Activations of each week + the day they happen.
Weekly Forecast:  October 20–26, 2019
10/20 ~ Venus (relationships) ~sextile~ Saturn (responsibility)
This energy has to do with your obligations, within the context of relationships. They are not difficult obligations (in this case) but more emphasis is placed on really loving to serve those you care about. It is also what I would call the "keep it real" energy, regarding relationships or finances. This activation prompts you to clarify what you are building, stabilizing, and fortifying, in your relationships & finances especially. I am a total advocate of renegotiating terms as you go along because you evolve, the situation & support around you evolves, and your needs change, so often we have to remind those closest to us. It's really hard to grow to the next level when each person is not clear on their ever-evolving roles & responsibilities. Of course, this starts with you knowing what you do or don't want and what you are or are not willing to compromise about and what you want to create and make real.
10/21 ~ Venus (values & priorities) ~trine~ Neptune (faith & spirituality)
This is a very supportive energy for dreaming your world into being! Allow your imagination some latitude to wander and see where it leads. Play with "what if" scenarios. For example, "what if" all your material needs & desires were taken care of, what would you dedicate your time, energy, and resources to? You may be very empathic and connected to others and what they are going through at this time, so maintain adequate boundaries. Neptune can activate a very spiritual encounter with another human being (friend, family, or lover) but only time will tell if it is Neptune playing tricks on you or if it is truly a spiritual connection.
10/25 ~ Venus (relationships) ~sextile~ Pluto (transformation)
This energy deepens all emotions and strengthens bonds & attachments. Friendships & love relationships become much deeper and, sometimes more intense, not to mention any physical, sexual experiences. Being fake or superficial is never possible when Pluto is involved, and because Venus is involved, we're talking relationships or how you relate in general, so if you are needing to dig a little deeper with someone, you are supported. This energy can facilitate positive transformation in your relationships, partnerships or collaborations. It will give you added power to help you change what needs changing or at least get it on the table for a deeper discussion or a clearing conversation. Your emotional intensity may be at an unusually high level, so be sure to surround yourself with people who love you unconditionally or try to be alone and just reflect on what you're feeling.
This article originally appeared on Karmic Tools!