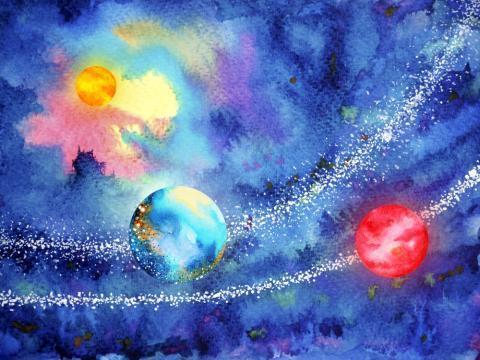 The Karmic Tools Weekly Forecast covers the current planetary transits which affect people in different ways and to various degrees of intensity.  Take notice when it is a Personal planet (Sun / Moon / Mercury / Venus / Mars) interacting with a Social (Jupiter / Saturn) or Collective planet (Uranus / Neptune / Pluto).  And pay extremely close attention when it is a Social planet interacting with a Collective planet because that means something big is brewing that will move large groups of people along their evolutionary paths. Tuning in to the energy and rhythm of the planets can serve as a useful guide as you move along your Individual Path.  It also helps to understand your place within the context of the larger Social & Collective Story. Below, you will find out how these energies tend to manifest, as well as guidance and direction.  NOTE:  There are some days when there are NO CONTACTS (besides the Moon);  there are no missing entries, we just list the actual Activations of each week + the day they happen.
Weekly Forecast:  September 29–October 5, 2019
9/30 ~ Venus (your values) ~square~ Pluto (transformation)
This activation brings intensity and it challenges you to grow (out of comfort zone, into new territory) where your relationships & finances are concerned. It creates very intense emotional responses and experiences with others that tends to trigger insecurities or hidden fears in one or both of you. Stability is not part of the equation at the moment, so prepare for inevitable change. You've probably already felt it coming (the shift in your relationship or financial situation), well, it's here now, so you can be proactive on your own behalf or you can suffer the consequences of postponing the inevitable. (You may have heard me say: Pay now or pay double later. That applies to this transit too.) The natural reaction may be to try to hold on to the job or relationship, but try not to give in to that temptation. Pluto intensifies everything and the more you resist the necessary purification & change that Pluto brings, the more painful it usually is. It is better to clarify your values & priorities and choose change, rather than have it forced (more Pluto) upon you. Either way, once the dust settles, you should be better off because things either change for the better or go away altogether, making room for something new and more in-alignment with your values & priorities of "now."
This article originally appeared on Karmic Tools!