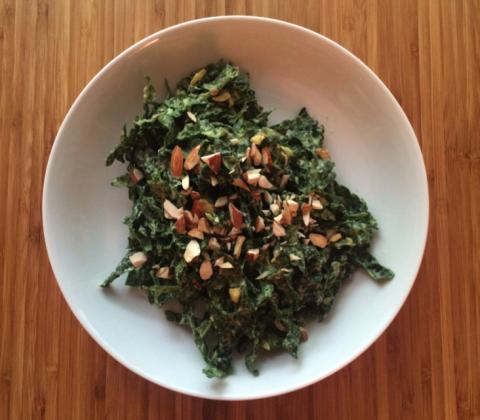 Kale has been a buzz-word superfood for several years now, but I won't blame you if you still haven't taken the plunge to eat the leafy green in a raw salad. In a previous life, I worked for many years at a natural foods co-op. Their attention to organics, quality, and local foods informed much of my nutrition knowledge today, and thanks to my foodie-job, I learned a lot about scary vegetables. Kale, naturally, was a terrifying green upon first glance. Its leaves so hardy, its stems so woody, and its color so….green. How in the world can kale be delicious?
The truth is, kale has a stellar nutritional profile, and so you owe it to yourself to find a preparation that suits your tastes. I've snuck kale into lots of dishes from soups, to stir-fries, to pastas, but it wasn't until I started exploring raw kale salads that I really understood the versatility and deliciousness of those once scary, green leaves.
I love a good, simple salad, so for this recipe I only use 10 ingredients, many of which you can easily find in your home pantry. I use tahini, a popular Middle Eastern sesame paste, to add a nutty flavor, and fresh lemon juice to soothe the bitter taste that raw kale can carry. Avocado gives the dressing a creamy, yet healthy twist, and a dash of crushed red pepper adds a zip of spice. If you're comfortable with your knife skills, the kale leaves are best when chiffonade or finely sliced, but if that seems too fancy, roughly chopping the leaves will work, too. The result is a tasty salad that can serve as a side, garnish, or stand-alone dish. Enjoy!
Not Your Mama's Kale Salad
(Serves 2-4)
2 tbsp olive oil
1 lemon
2 tbsp tahini
1 small avocado
1 small garlic clove
¼ tsp crushed red pepper
Salt & pepper to taste
3 tbsp water
1 bunch lacinato Kale, ribs removed, leaves finely sliced
½ cup raw almonds
In a food processor or blender, add olive oil, juice of lemon, tahini, avocado, garlic, salt, pepper, and crushed red pepper. Pulse to combine, then slowly add water to thin dressing to taste.
In a large bowl, combine finely sliced kale and dressing, adding the dressing bit by bit until kale is completely coated. Using your hands, massage dressing into kale, then let sit 5-10 minutes.
Meanwhile, place almonds into a pan over medium heat and stir frequently to toast, about 5-10 minutes. Transfer almonds to cutting board and roughly chop.
Top salad with almonds and toss to combine. Serve immediately, or cover and refrigerate up to 3 days.