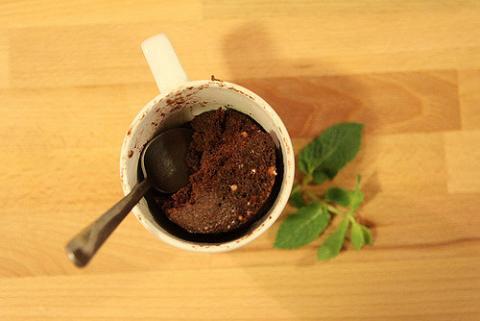 This is one of my favorite dessert recipes because it's so quick, easy and fun to make. Treat yourself with a single serving of moist chocolate cake that you can whip up in only five minutes and even eat in the same container that you cooked it in! If you want to make multiple servings or one larger cake, simply use the same ingredients in larger portions.
Vegan Chocolate Mug Cake
*Serves 1
Supplies:
Small ramekin/coffee mug (oven-safe)
Ingredients
1 tablespoon + 2 teaspoons cocoa powder         
3 tablespoons flour
1/8 teaspoon salt                                                                    
2 tablespoons sugar
¼ teaspoon baking powder
3 teaspoons vegetable or liquid coconut oil
3 tablespoons almond milk (or any non-dairy milk)
½ teaspoon vanilla extract
Powdered sugar topping (optional)
Directions:
-Preheat oven to 350 degrees Fahrenheit.
-Using a small bowl, mix the dry ingredients together, blending well. (Dry ingredients are cocoa powder, flour, salt, sugar and baking powder).
-Then add the oil, almond milk and vanilla extract. Blend until mixture becomes smooth and well-combined.
-Pour mixture into your small ramekin or oven-safe coffee mug.
-Bake for about 10-15 minutes, checking regularly.
-Remove from oven when cooked all the way through and add powdered sugar topping if desired.
-Allow to cool before eating. 
Photo Credit: "Chocolate Mug Cake" by Mr Michael Phams is licensed under CC BY 2.0