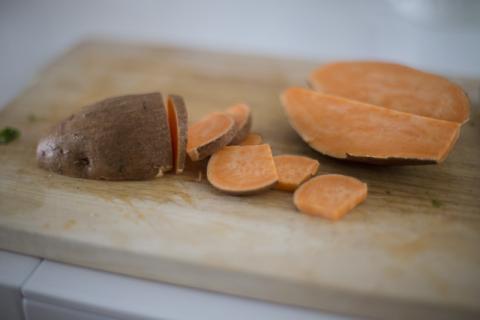 It is sweet potato season! This yummy recipe is one of my absolute favorites for fall and is a great complement to a meal with roasted chicken or turkey or as the main course in a vegetarian meal with a side salad. The combination of the sweetness of the potatoes and the savory flavor of the black beans with the added accent of the herbs used here is simply divine. Sweet potatoes are a wonderful source of Vitamins A and C and potassium, and they also help regulate our blood sugar and contain antioxidant and anti-inflammatory properties. Enjoy -- and feel free to experiment with and expand on toppings! This dish serves four.
What You Will Need:
Large oven tray
Medium-sized cooking pan
Ingredients:
Cooking oil of choice (olive, coconut or ghee suggested)
½ tablespoon of red wine vinegar
4 sweet potatoes
1 can of organic black beans (approximately 14 ounces)
Herbs -- rosemary, thyme
Spices -- cumin, sea salt, pepper, cayenne
2 cloves of garlic
1 large portabella mushroom
Red onion
Cilantro
Avocado
Green onions
Goat cheese
Instructions:
Preheat oven to 425 degrees Fahrenheit.
Wash and scrub the outside of sweet potatoes and place in oven. These will generally take between 45 minutes to an hour to cook.
Drain black beans and set to the side.
Finely chop up mushroom, garlic and ¼ of the red onion.
In the last 10-15 minutes the sweet potatoes are in the oven:
In medium sized pan over medium heat, add in oil of choice and sauté mushroom, garlic and onion. Add in desired amount of herbs and spices and then splash in ½ tablespoon of red wine vinegar for flavoring. Sauté together for about 5 minutes.
Add in black beans, stirring frequently and cook together for 3-5 minutes, lowering to a simmer and covering.
Remove sweet potatoes from oven, slicing in half. With a small knife, cut several lines into the inside of each half so the flavors will mix in.
Smother each half in black bean mix, top with cilantro, avocado, green onion and goat cheese.
Serve and enjoy!