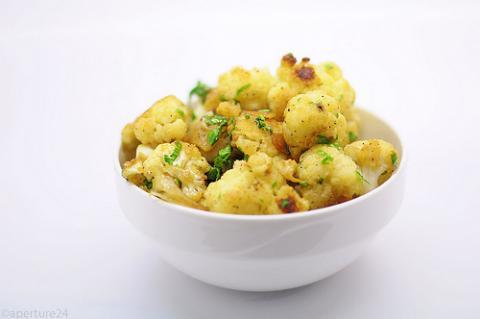 Growing up, my dad would frequently bring Chinese food home for dinner. Those amazing take-out meals usually consisted of lemon chicken, chow fun noodles, and Chinese chicken salad. Every single dish was always mouthwateringly good, but do you know which dish was the star? That's right—lemon chicken. That unique, tangy, sweet sauce truly made it what it was. If you open up my family's refrigerator, you'll mostly see bottles of various sauces, and not much else (we're sauce people, or connoisseurs, if you will).
Since I became vegan and gluten-free, I thought my days of eating luscious lemon chicken were far behind me. If your diet is somewhat restricted like mine, there's hope; you can come out of mourning now because you're no longer doomed to never eat delicious Chinese food again. I've got a recipe for fried cauliflower bites with a lemon sauce that'll blow your mind. In fact, this really is my favorite thing to make, eat, and not share. Call me a sinner because the word gluttony comes to mind whenever I sit down to enjoy this sinfully satisfying meal. I've never missed lemon chicken since. It's not the next best thing; it's the best thing. It's slightly healthier than lemon chicken (cauliflower is a vegetable, right?), and just as flavorful, if not more. My mouth is salivating as I write this. I just might have to indulge in this comfort food on this rainy day in sunny California.
Ingredients:
Oil for frying
1 medium head of cauliflower, cut into bite-sized pieces
½ c. water
1/3 c. cornstarch
¼ c. gluten-free flour
1 tsp. oil
1 tbsp. sesame oil (most oils work here)
2 garlic cloves, minced
½ tbsp. ginger, minced
¼ c. vegetable broth
3 ½ tbsp. lemon juice
1 tbsp. gluten-free soy sauce (tamari, liquid aminos, etc.)
2 tbsp. organic sugar
1 tsp. cornstarch mixed into 1 tbsp. water
Directions:
Heat oil in a deep-sided pan to 350 degrees Fahrenheit. Meanwhile, make batter by mixing water, cornstarch, flour, and oil together. Dip cauliflower florets into batter, and, carefully, drop into oil. Fry cauliflower until golden brown. Then, place onto paper towel-lined plate to remove excess oil.
While cauliflower bites cook, make the sauce. Over medium-high heat, heat skillet, and add sesame oil. Next, add the garlic and ginger. Then, after about 30 seconds, add veggie stock, lemon juice, soy sauce, and sugar. Stir to dissolve sugar, and simmer until mixture reduces by half. Last, add the cornstarch slurry to act as a thickener.
Toss the fried cauliflower with the lemon sauce. If you'd like, you can serve this over white rice. Now, there's only one thing left to do—scarf it down (don't forget to chew) before anyone gets the false impression that you'd be generous enough to share. 
Photo Credit: "Lemon Garlic Roasted Cauliflower" by Simon is licensed under CC BY 2.0