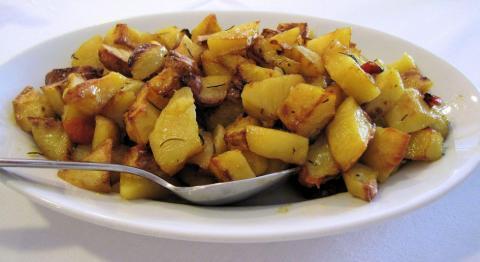 Jerusalem Artichokes are also known as sunroots or sunchokes. This root vegetable is super delicious and beneficial for your health. Jerusalem Artichokes are loaded with potassium, iron, and probiotic fiber, as well as vitamins B and C. If you have never tried Jerusalem Artichokes before, one of the best and easiest ways to prepare them is by simply roasting them. Here is an easy-to-follow recipe I have provided for making roasted Jerusalem Artichokes.
Prep Time: 10 minutes
Serving Size: 2
Ingredients:
½ pound of Jerusalem Artichokes
½ cup avocado oil
1 tablespoon dried rosemary
Sea salt and pepper to taste
Instructions:
Preheat oven to 350 degrees Fahrenheit
Clean Jerusalem artichokes and cut into halves.
Combine artichokes, avocado oil, rosemary, sea salt and pepper together in a bowl. Add in Jerusalem artichoke pieces and toss to coat with oil and other ingredients.
 Spread out halves on baking sheet with the artichoke flesh facing down.
Roast Jerusalem artichokes in the preheated oven from 30-45 minutes or until they are tender and caramelized.
Allow to cool for about 20 minutes before serving.
Enjoy!
Roasted sunchokes make a wonderful side dish, and they go well with roasted garlic and onions because they taste kind of like a mildly sweet potato. Enjoy this super easy, yet tasty recipe! And as always, feel free to experiment and make it your own.