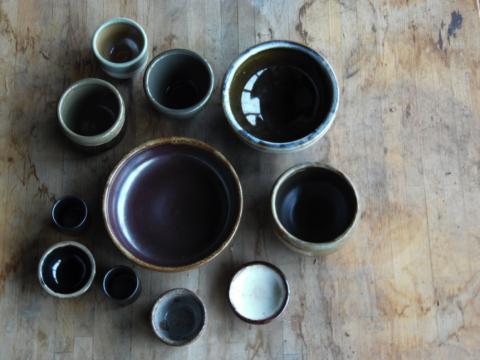 Soups and stews are the quintessential winter dishes. Warming and often slow cooking, they are perfect for any chilly evening. But every now and then, we require a meal both hot and delicious, while also fast-cooking and nourishing. Enter peanut miso soup with greens and tofu.
I originally found a variation of this recipe in a newsletter sent out by my CSA (community supported agriculture) farmer many years ago. I loved being a part of the CSA and receiving an abundance of fresh vegetables each week. My farmers introduced me to several new veggies, and even more meal ideas. This soup in particular has become a staple in my household, both because it is incredibly tasty and super easy to whip up at a moment's notice.
The other great thing about this soup is that it is extremely nourishing. I love to make a batch whenever I'm feeling under the weather, or whenever I feel a cold coming on. Miso has long been touted for its magical fermented properties, the greens are both colorful and nutritious, and a dash of spice easily clears any sinus issues. It is the perfect soup for a snow day or sick day alike.
Of course, like many of my recipes, the ingredients used below are mere suggestions. If you don't have any chard on hand, kale, spinach, or even bok choy would make an easy substitute. I use white miso, but red would be fine. If you can't find rice noodles at the store, try serving the soup over rice instead. And if tofu isn't your thing, chicken or any white meat or meat alternative can be used. The very best recipes are those adapted to your own tastes, so experiment with what you have on hand and enjoy!
Peanut Miso Soup with Greens and Tofu
Ingredients:
4 cups water
1/2 cup soy sauce
2 tbsp peanut butter
8oz rice noodles
14oz (1 block) tofu, cubed
1 bunch chard, washed and chopped or chiffonade
1 tbsp garlic chili sauce or Sriracha
2 tbsp white miso
Method:
Bring water and soy sauce to a boil, then add peanut butter, stirring to combine. Add tofu and rice noodles, and cook 2 minutes. Add chard and garlic chili sauce or sriracha. Remove 1 cup broth from the pot and dissolve miso. Add broth with miso back to the pot. Serve!