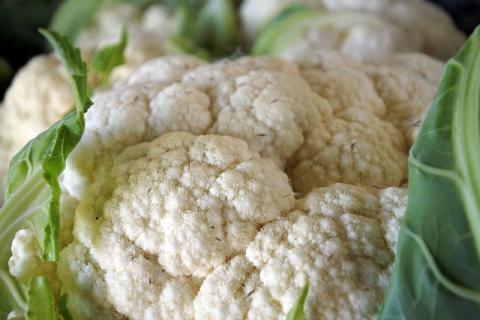 In a family with gluten, dairy, soy, egg, and nut intolerances, indulging in creamy anything is quite rare. My oldest son and I are big soup lovers, though, and he especially loves creamy soups, so I've tried my hand at several vegan recipes using coconut milk, but we just aren't always in the mood for the subtle taste of coconut. I've discovered that with enough olive oil in the cooking process, and by roasting the veggies first, we can end up with a creamy soup without any dairy or dairy alternatives whatsoever – and the taste is truly superb. It is one of those meals that you have to remind yourself is actually incredibly healthy –  just veggies, olive oil, herbs, and spices –  because it really does taste like a decadent treat. Here's how you, too, can warm up your insides on a cold winter evening:
Creamy Roasted Cauliflower Soup
1 medium to large head of cauliflower
1 large leek
2-4 cloves of garlic, depending on taste (I use 4 because I like it good and garlicky)
1 small-medium yellow onion
4 cups of vegetable stock
About 2-3 Tbs olive oil
½-1 tsp sea salt
 Several turns of fresh ground pepper to taste (you can always add more, so start on the smaller side)
1 tsp (dried) Herbs d'Provence or thyme
Preheat oven to 425 degrees Fahrenheit and pour olive oil onto a cookie sheet (or some other roasting pan) and rub it around until the bottom is covered. Chop the cauliflower and leek up into bite size pieces and put them on the pan to roast with the garlic cloves. Pour olive oil on top of the vegetables, trying to make sure each piece has been touched. I do this by pouring the oil in a crisscross fashion over the pan, and then I roast the vegetables for about 30 minutes, turning them over once or twice during that time. They will be done when there are brown bits on top in places.
Meanwhile, chop the onion and sauté it in about 1 Tbs olive oil in a large pot on medium-high heat until translucent (about 3 minutes).This is also when I like to put the salt, pepper, and herbs d'Provence (or thyme) in the pot, but remember: you can also add more salt and pepper later, so start with small amounts. The soup is so flavorful with the garlic that you might be surprised at how little salt in particular that you need.   
Add the four cups of vegetable stock to the pot and bring to a quick boil before turning it down. When the vegetables are finished roasting in the oven, put them in the pot of soup and let it all simmer together for about 5 minutes before turning off the burner and letting it cool a bit prior to blending. Pour the soup into a blender and watch it turn into creamy white deliciousness in less than a minute, and then taste to make sure it has enough salt and pepper to your liking.
This soup tastes especially good with bread dunked into it, whether it is gluten-free garlicky bread sticks, or my husband's favorite, toasted rosemary bread. This is definitely a fine meal to enjoy by a fire this season and at the same time get a hearty dose of vegetable healthiness. And since 2016 seemed to be the year of the cauliflower, it makes sense to end the year by honoring the vegetable that showed up in every which way –  from rice to pizza crust.