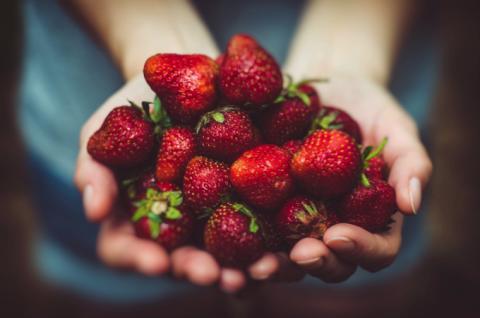 The Oakland Unified School District (OUSD) in California is making great strides with the Farm to School program it started in 2008. Through this program, OUSD sources the majority of their produce from local farms, and in 2016, they won a "California Farm-to-School Network Golden Seed Award" from the Community Alliance with Family Farmers. Jennifer LeBarre, director of student nutrition, told the San Francisco Chronicle that the program focuses on sourcing food within 250 miles of the school and that through this strategy they've been able to "to achieve double-digit decreases on our carbon footprint."
OUSD is now planning to initiate the Good Foods Purchasing Policy, which is run by the Center for Good Food Purchasing. The Good Foods Purchasing Policy rates participating institutions on animal welfare, fair labor, sustainability, nutrition, and local economy engagement. While other California school districts are also trying out this type of program, Oakland is unique because it is so large—they serve 6 million meals annually.
Improving the quality of these meals at an affordable price takes some creativity. The San Francisco Chronicle article explains that some local foods, like Sacramento brown rice, were actually cheaper to buy. In other cases, the ground meat from Mindful Meats in the school chili is supplemented by beans to meet school protein requirements. The Center for Ecoliteracy funded training for kitchen staff to learn to handle raw chicken as the school district pursues its journey from precooked to freshly prepared meals. OUSD is planning to open a central processing kitchen to aid in the mass preparation of fresh produce. Individual school kitchens carry out weekly taste tests in which children can try and rate foods that may be new to them, such as tabbouleh. The program's funding was gained from the U.S. Department of Agriculture during the Obama administration and concerns exist about the security of ongoing support for this type of nutrition program in low-income areas.
I asked Alexandra Emmott, OUSD's Farm-to-School coordinator, what she feels their biggest success has been thus far. She said, "I think the most successful aspect of our program has been getting more fresh California foods onto students' plates in Oakland."
If you work in a school district that is exploring a farm-to-table approach, here's what Emmott recommends:
"My advice for other school systems is to start small: change just one meal, or invest in one hour of professional development for staff. You will learn from the experience and be able to grow your program over time."