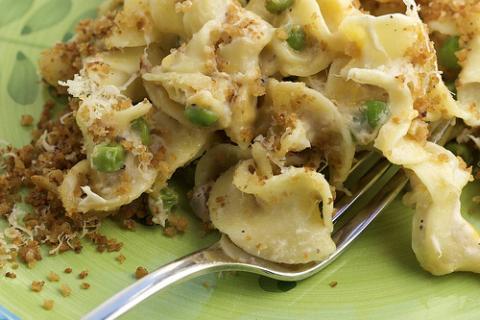 Growing up, my sister and I were vegetarians, in a family full of meat-eaters. So, our dinner plates often seemed incomplete because our family didn't really know how to work around our diet restrictions.
However, one night, my mother was making tuna noodle casserole, and decided to switch things up a bit, in order to fit our needs. She made a separate, vegetarian-friendly casserole dish that has been one of my all-time favorite go-to comfort foods ever since. It's one of those things where you really can't help yourself. I'm known to go for seconds (okay, thirds).
Now, as a gluten-free vegan, I've tailored my mother's recipe because I just cannot imagine life without this scrumptious casserole. If you're experiencing a rainy day, and are looking for something that is truly satisfying, it's the perfect opportunity for you to make this tuna-free noodle casserole. You have my word; this updated version of an old-fashioned dish will hit the spot every single time.
Ingredients:
8 oz. gluten-free pasta (rotini works well), cooked 'til al dente
1 ½ c. frozen green peas, thawed
1 ½ c. fresh spinach, chopped
3 tbsp. vegan butter
1/3 c. chopped onion
2 garlic cloves, minced
1 c. finely chopped celery
1 jalapeño pepper, minced (optional)
3 tbsp. gluten-free flour
¾ c. veggie broth
¾ c. original, unsweetened almond milk
½ tsp. salt, and some pepper (to taste)
Vegan cheese, such as Daiya Cheddar (as much or as little as you like!)
Crushed potato chips, or gluten-free breadcrumbs
Directions:
Preheat oven to 350 degrees Fahrenheit.
In a saucepan, over medium heat, melt butter. Add onion, garlic, celery, and jalapeño. Cook, and stir, for about 10 minutes. Then, add flour, and cook for about 90 seconds. Stir in broth, milk, and seasonings. Once the "cream" of celery mixture comes to a boil, cook for another minute.
Next, combine the pasta, peas, spinach, cream of celery, and cheese. Adjust seasonings, if necessary.
Last, put the casserole into a casserole dish. Top it off with the potato chips and/or breadcrumbs. Bake for about 25 minutes, or until golden brown. Enjoy (because I know you will)!
Photo Credit: "Tuna Noodle Casserole" by Nicole is licensed under CC BY 2.0