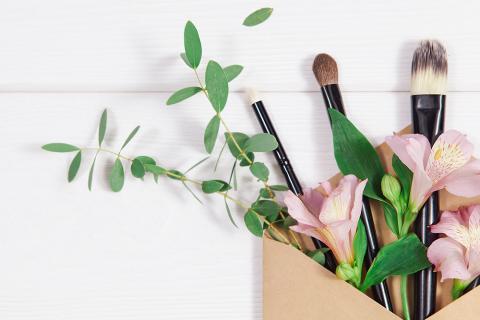 When shopping for cruelty-free makeup, we often don't look further than the packaging for answers. And that's a good place to start: a simple "We never test on animals" may be printed somewhere on the label.
But there are several loopholes when it comes to animal testing, and not every company is as ethical as they claim. Many businesses cut corners, trusting that consumers will be none the wiser. In such an important issue, gray areas look more like major red flags. Take a few extra precautions next time you shop for cosmetics and personal care products to make sure you're buying from a genuinely cruelty-free company.
The research necessary for finding out which brands are really against animal testing can be confusing. However, animal rights groups have worked together to make it easier for consumers. One helpful thing that appears on the packaging of many cruelty-free products is the Leaping Bunny symbol. The Coalition for Consumer Information on Cosmetics (CCIC) is a group of eight animal protection groups that created the standard for products that feature the Leaping Bunny logo. This standard requires companies to not only refuse to test on animals, but also to refuse to source from suppliers or manufacturers that do. If you see their symbol on an item, it's probably safe to buy.
The Leaping Bunny standard also requires that companies don't test on animals when required by regulations in other countries, which is a major issue for some otherwise cruelty-free brands. In China, animal testing is required by law for any cosmetics made outside China, which means all foreign companies that want to tap into that market have to sign off on animal cruelty. However, this is only the case for products being sold at brick-and-mortar stores: any consumer in China can shop online to buy products that don't test on animals. (Also, Hong Kong is an exception to this law, so it is possible for companies to sell products there and still be cruelty-free.)
It's a big decision for a business to refuse to sell their products at stores in a major and growing country like China. However, even if a company only tests on animals when it's required by law, that still means they test on animals. Businesses don't deserve to get cut slack in a "gray area" like this. If a company sells products in China, buy from someplace else, because you know they are testing on animals.
Another important question to ask: What is the parent company? A lot of businesses tell consumers they're cruelty-free; and that may be true to a point. However, it's worth checking to see if the parent company is a company that does test on animals. The same is true of many other "cruelty-free" brands. Larger companies often acquire successful smaller ones, or may start a "natural" line to compete with the independent cosmetics businesses that are doing vegan and natural products. It's important to remember that a share of the profits from any product will ultimately end up with the parent company. So, if you really want to keep your hard-earned coins out of pockets that support animal testing, look up who owns the brand you're buying. The most ethical brands are often truly independent companies, such as what you'll find on Etsy or at a farmer's market.
One more note: be cautious of the PETA cruelty-free list. Their listing standards are less rigorous than Leaping Bunny's. Although PETA-approved companies are required to sign a statement to the effect that neither they nor their suppliers test on animals, some companies on their approved list do sell in China or have parent companies that do. And it's unclear whether PETA enforces their rule requiring brands to source ingredients that aren't tested on animals. The Leaping Bunny's standard is much more reliable. Also, keep in mind that any cruelty-free certification only applies to things that fall into the cosmetics category. If the brand or parent company also sells dietary supplements or medication, they may test those products on animals.
It's always worthwhile to do a little extra research instead of supporting a questionable business. Your safest bets are often smaller, handmade brands that are completely transparent about their sourcing and methods (or making your own products!). Make double-checking the standards of the companies you buy from a regular habit and it will quickly become second nature. This way, you can shop happier knowing you're putting your money toward cruelty-free products, every time.