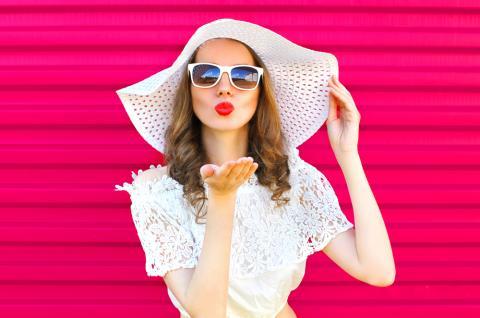 With summer here, you probably don't feel all too eager to cake on makeup. Why not try a lightweight DIY lip stain? It'll stay put for a while, and give your lips a fresh, healthy glow. Not to mention these are all natural, so you have nothing to worry about! 
Creamy DIY Lip & Cheek Stain 
This creamy lip and cheek tint is lightweight and perfect for summer. It also makes the prettiest shade of pink. I love how it works overtime by adding color to both your lips and cheeks! It only requires three ingredients and is relatively easy to whip up. Castor oil is very hydrating and has a nice thick texture that will help this lip stain glide on nice and smooth. Shea butter adds a silkiness to the stain, moisturizing your skin in an instant. Beetroot powder is such a beautiful pink color—adding just a little bit will be more than sufficient. Try adding some turmeric or cocoa powder to tone down the pink color if it's too bright for you. 
Ingredients
1 teaspoon castor oil 
1 teaspoon beetroot powder 
1 teaspoon shea butter 
Directions
Measure ingredients into a small glass measuring cup, then set in simmering water until shea butter melts. 
Stir in the beet powder and pour into a small jar and allow mixture to cool. 
Store in a dark area away from heat. Stored properly, the stain should last up to 6 months.  
Cranberry-Coconut Lip & Cheek Stain 
This lip and cheek stain is safe enough to eat and also perfect for those who enjoy a slightly thicker stain. It's almost got the consistency of a tinted lip balm, but you can definitely use it on your cheeks as well for a pop of color. Beetroot and cranberry powders are so beautiful and vibrant in color they'll create a wonderful tint for you. If you're looking for something you can use on-the-go real quick for a pop of color, this is definitely for you.  
Note: The beeswax is optional. It will give the gloss a firmer texture, more like a balm. For a darker shade, add more beetroot powder. For a different shade, mica powder could also be added. 
Ingredients
2 Tablespoons coconut oil 
1 to 2 teaspoons shea butter 
1/2 teaspoon beeswax pellets 
1 Tablespoon freeze-dried cranberry powder 
1/2 teaspoon beetroot powder 
Directions
In a small saucepan, melt the coconut oil.
Add the cranberry and beetroot powders  to the melted coconut oil. Let it stand for 30 to 60 minutes (or longer) to infuse the oil.
If using beeswax, heat the coconut oil again and add the beeswax, allowing it to melt completely. Let cool until still fairly warm, but not too hot.
Strain the warm oil through cheesecloth placed over a fine mesh sieve. Press gently on the solids using a wooden spoon to extract as much of the oil as possible.
Stir in the shea butter (it should melt easily if the oil is warm enough), then let it cool.  
As the mixture cools, it may start to separate a little bit. Stir to keep the color particles mixed into the coconut oil. When it's solidified, gently beat it with a spoon until light and creamy. Transfer to a small jar with a lid and keep it somewhere cool. It will keep for several months.
Beetroot Lip Stain 
If you don't have access to beetroot powder, but you do have beets, this DIY is for you. It's pretty straight forward and nothing too complex. You can use beetroot powder in place of an actual beet, if need be, to make this. Also, if you're ever in a dire rush and can't make this DIY (or any DIY listed, for that matter), consider grabbing a small slice of beet and rubbing it on your lips and cheeks. It's a quick, direct way to get some color to your lips. For something more portable, give this DIY a try for a gentle hint of color. 
Ingredients
3 teaspoons beetroot or beet powder 
3 teaspoons vegetable glycerin 
one 30 ml roller lip gloss container or medicine syringe 
Directions
Place a double-boiler or stainless steel bowl over a saucepan. Fill the bottom saucepan with water and bring to a gentle simmer. 
Whisk beetroot powder and glycerin in the bowl or top of the double boiler, stir until all the lumps have dissolved, and leave to cook over a gentle simmer for half an hour. 
Take off the heat and allow to cool. Using a funnel or medical syringe, pour into the sterile containers. 
For more ways to treat your lips this summer, try making some lip scrubs or lip balm. You can even make lip balm with SPF in it, fitting for the summer months ahead. If you suffer from chapped lips, here are some holistic hacks to heal your lips.