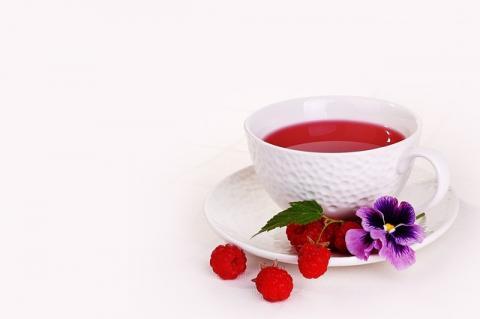 When thinking about tea, some of the first selections that come to mind are usually green, white, chai, oolong, or black. But what about those caffeine-free berry teas? Berries themselves are packed full of vitamins and antioxidants for the body, so it would only make sense for them to benefit us in tea form. Curious to explore some of the different kinds of berry teas and their health qualities? Here are 8 very beneficial teas you should really try out.
1.      Red Raspberry Tea
For those of you who are not a fan of the bitter tasting raspberry leaf tea, you will be happy to know that red raspberry tea is much tastier, and still offers the same benefits. Red raspberry tea still has a lot of the same good stuff such as essential minerals, vitamins, and antioxidants. It has been said to work wonders for helping women deal with pregnancy symptoms such as morning sickness, cramps, and swelling. Raspberry tea is also consumed for naturally soothing PMS symptoms and detoxifying hormones.
2.      Elderberry Tea
Much of this tea's benefits can be attributed to its high amounts of vitamin C and antioxidant rich flavonoids. It has often been used for naturally relieving cold and flu symptoms such as fever, cough, and headache. The strong-tasting tea is known for improving and leveling up the immune system. NOTE: Only the elder species of Sambucus nigra should be used because other types of species are poisonous.
3.      Acai Berry Tea
I have never heard anyone boast about a super berry tea as much as I have this one. This tea has been used for different things, such as supporting the immune system, cardiovascular health, aiding in weight loss, and cancer prevention. It's awesome for skin hydration and high in polyphenol antioxidants that assist in keeping bacteria and viruses away. Acai berry tea is very delicious, as well as refreshing.
4.      Cranberry Tea
Want to help fight off free radicals in your body? This fruity tart tea is perfect because it's loaded with vitamin C. The tea is also said to help prevent gingivitis, relieve PMS symptoms, aid in reducing weight, and detox the liver, kidney, and lymph.  It is also a very popular tea for treating urinary tract infections by flushing out harmful bacteria in the urinary tract.
5.      Juniper Berry Tea
Juniper berry tea has a potent piney aroma and a robust taste that is actually quite soothing. People often drink this tea to heal digestive and respiratory issues. It is well known for its inflammatory properties, and used for alleviating pain throughout the joints. The tea has a lot of volatile oils, which have a reputation for their antiseptic properties.
6.      Hawthorn Berry Tea
Hawthorn berry tea has a unique flavor and is said to be famous for heart health. Drinking the tea daily has been known to help strengthen arteries, and reduce the amount of inflammation or clogging of them. It has magnesium, potassium, vitamins A, B, and C as well as antioxidants. Another benefit of this tea is this it really helps with relieving anxiety.
7.      Goji Berry Tea
Goji berry tea is a nutritious tea commonly used in Chinese medicine to help with many kinds of conditions. It is used for purposes such as lowering blood pressure and helping diabetics lower their glucose levels. The fruity flavored tea has been said to help with constipation, abdominal pain and heartburn. Regular drinkers of goji tea have mentioned feeling more calm and relaxed.
8.      Black Currant Tea
This yummy tea usually consists of a mixture with both the black currant leaf and fruit. Black currant tea is anti-inflammatory and rich in anthocyanins, which are a type of polyphenol or natural antioxidant that has been used to slow down and restrain the growth of cancer cells.  It is high in vitamin C, a vitamin well known for aiding in the rebuilding of body tissues and for giving the immune system a good boost.
Besides having health benefits, these berry teas tend to blend really well with other kinds of fruit or herbal teas, and taste good both cold and hot. So, go ahead and tea-off your day with a cup of berry tea!