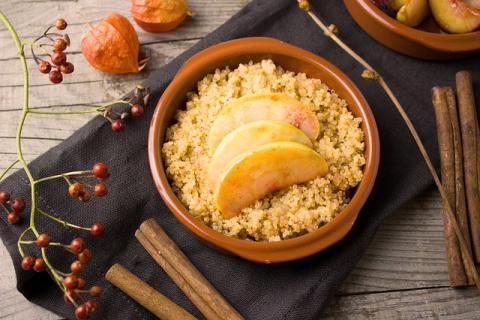 Every so often my standard morning oatmeal recipe starts to feel boring and bland; I crave something warm and satisfying, but decidedly not made from oats. Enter breakfast quinoa!
Traditionally used for savory dishes, quinoa makes an excellent cereal grain substitute when oats or porridge simply won't do. I love the high protein content of quinoa, which easily keeps me full until lunchtime. Plus, the quick cooking time yields a tasty and healthy breakfast in no time. (Hint: In a hurry in the morning? Make your quinoa ahead of time and simply reheat as desired.)
This recipe is a play on a traditional apple cinnamon cereal -- classic flavors that bring warmth and energy to even the most drab of mornings. I use both water and almond milk to cook my quinoa for a creamier consistency (use any type of dairy or non-dairy milk per your preferences), and drizzle in just a touch of honey, as the apples add natural sweetness. Like all of my recipes, feel free to use different fruits and spices to create your own specialty breakfast quinoa.
Apple Cinnamon Breakfast Quinoa (serves 4)
Ingredients:
1 cup quinoa, rinsed
1 cup water
1 cup unsweetened plain almond milk
1 apple, chopped
2 tbsp butter
1 tsp cinnamon
Honey, to taste
Roasted almonds, chopped (for garnish)
Method:
In a pot, combine quinoa, water, and almond milk over medium heat. Bring to a boil, then cover and lower heat to simmer for about 15 minutes. Meanwhile, melt butter in a pan over medium heat and add chopped apples, and then cook 5-8 minutes until soft. (For a softer fruit, cook longer.) Add apples, cinnamon, and honey to quinoa, then stir to combine. Check for doneness, then serve in cereal bowls. Add roasted almonds for garnish (optional). Enjoy!