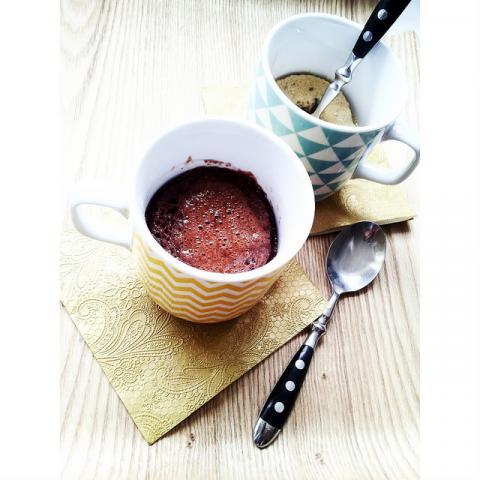 I've always loved to bake. During summertime, I'd bake nearly every day, out of sheer boredom. The problem was that once my older brother and sister had moved out of the house, there weren't many people left to devour all of the tasty treats. So, I had to come up with a solution because I cannot watch things go to waste, and the calories were bound to catch up with me sooner or later; I mean I was pretty active, but definitely not that active. My sweet tooth's love for all things baked goods led to me discovering a dessert that was perfect for portion control, and it didn't even require an oven—microwave mug cakes, or cup cakes (you decide)! Coffee, you've been replaced. Okay, that was a bad joke.
If you're feeling a little skeptical, don't be because it really does work. After making a mug cake for the first time, the chocoholic in me had to immediately make three more. So much for portion control, huh? Now that my diet is a bit more restrictive, I had to make a few revisions, but the end result was still just as decadently delicious as this chocolate lovin' lady had remembered. I could totally see myself enjoying a fudgy chocolate brownie mug cake in front of a nice, warm fire, if only I had a fireplace. For those of you who are looking for a crazy quick, easy as can be, intensely chocolatey single serve dessert that'll definitely hit the spot (so, like, everyone?), congratulations! You've found it.
Ingredients:
4 tbsp. gluten-free flour blend
4 tbsp. organic sugar (I use half granulated, half brown)
2 tbsp. unsweetened cocoa
4 tbsp. dairy-free milk (almond is my go-to)
2 tbsp. flavorless oil
½ tsp. each of baking powder and vanilla
Pinch of coffee granules and salt
Optional mix-ins: vegan chocolate chips, caramel, and/or marshmallows, nut butter, nuts, organic banana, cinnamon, etc.
Directions:
Carefully combine all of the ingredients in your favorite microwave-safe mug. Mix until batter is velvety smooth.
Heat mug in a 1000 watt microwave for about 1 minute and 25 seconds (more or less, depending on your microwave).
Let the freshly "baked," moist brownie and cake lovechild cool for about as long as you microwaved it for. Then, feel free to indulge! P.S. I can hear that frosty vegan ice cream in the freezer calling your name. 
Photo Credit: "day 25 time for a mug cake!!!" by carol and co is licensed under CC BY 2.0