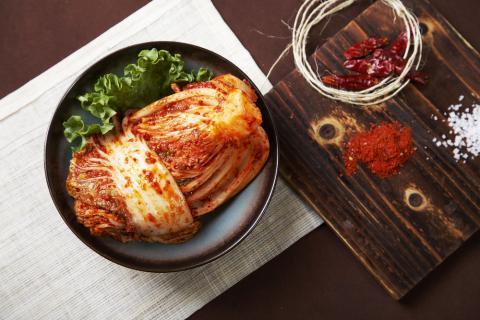 Kimchi, the Korean dish featuring fermented cabbage, is a nutritious powerhouse.  For starters, it's a heck of a source of probiotics, which help keep your gut health in tip-top shape.  When you consume probiotics regularly, it keeps your digestive system moving, it keeps bad bacteria from setting up house in your gut, and it even gives your overall immune system a boost.  Fermented foods, like kimchi, are a rich source of probiotics, which colonize the food as it ferments.  Scientists don't fully understand all the ways that probiotics keep us healthy, but they see the correlation and for this reason, many physicians recommend probiotic supplements, especially after a round of antibiotics or an upset stomach, in order to recalibrate your microbiome.
You can purchase kimchi at many grocery stores, especially health food stores or Asian markets, and you can try your hand at making your own, too!
Unfortunately for those with sensitive taste buds, a lot of fermented foods are rather pungent—kimchi is no exception, and often is also rather spicy.  Rather than turn your back on it due to its aggressive flavor, why not use that to your advantage?  Incorporate kimchi into these meals, snacks, and recipes to jazz up your usual favorites while getting an extra health boost to boot!
1. Kimchi Hummus
Add 1/2 cup kimchi to a 15-oz. can of chickpeas, 1/4 cup tahini, 3 tablespoons olive oil, and 3 tablespoons water (start with less if your kimchi is liquid-y).  Add salt and garlic to taste (about a 1/2 teaspoon and a clove).  Throw it all in the blender or food processor and puree until well blended.  Eat it however you would normally eat hummus—and top with extra kimchi, if you like!
2. Kimchi Scrambled Eggs
When your scrambled eggs are almost done, mix in some kimchi and cook until warmed through.  Add greens (spinach, kale) before the kimchi (let them wilt!) for an extra nutrition boost, and top with more hot sauce if you want!
3. Kimchi Udon
Sautee some onion in a pan, and then add about 1/2 cup of kimchi.  Cook for a few minutes and then add a sauce made of soy sauce, honey, garlic, sesame oil, rice vinegar, and chili flakes.  Mix in cooked udon noodles until heated through and combined; serve garnished with green onions or extra kimchi for an easy but impressive weeknight meal.
4. Kimchi Spaghetti
If you're looking to jazz up your pasta night, try adding kimchi to spaghetti (or spaghetti squash?).  Sautee onion and garlic (add mushrooms and bacon if you like).  Then add kimchi and warm it through.  Add in cooked spaghetti (skip the marinara sauce), mix to combine, and then garnish with sesame seeds, cheese, or green onions.
5. Kimchi Tacos
Use whatever meat or meat substitute base you prefer—ground beef or turkey, crumbled tofu or tempeh, sweet potatoes and black beans—and top with fresh kimchi.  The pickled crunchiness is reminiscent of slaw or salsa but the fermentation provides an interesting tang.
6. Kimchi Grilled Cheese
Add a couple tablespoons of chopped kimchi to a grilled cheese sandwich.  Try using mozzarella and Monterey Jack, or stick to cheddar which will mellow the spiciness of the kimchi. 
7. Kimchi Fried Rice
Sauté 3/4 cup chopped kimchi to warm it through, then add a couple cups of cooked rice.  Mix in your choice of leafy greens and any other desired veggies (mushrooms, peas) or protein (tofu, egg).  Add a couple tablespoons of soy sauce and, for an extra oomph of flavor, 1/4 cup kimchi juice.
8. Kimchi Relish
This is so easy to make and can really elevate your next hot dog or veggie dog night!  Add a couple teaspoons each of rice vinegar and honey to half a cup of chopped kimchi (add more or less to your preferred taste).  Mix and let marinate for 20 minutes.
9. Kimchi Pizza
Kimchi pizza can be as simple as adding some to the next pizza you make (or order!).  If you want to truly feature the kimchi, make an at-home pizza crust (try cauliflower crust for a gluten-free option) and add some kimchi to the top of it before baking.  Try a sauce made of red pepper paste, garlic, rice vinegar, and sesame oil to complement the kimchi perfectly.
10. Kimchi Quesadilla
Add a spoonful or two of kimchi to a one half of a warmed tortilla, and then cover with mozzarella or any cheese you like.  Fold the tortilla in half and let cheese melt. Garnish with more kimchi or hot sauce, if desired.
11. Kimchi Potato Salad
Whether you're trying to speed up your potato salad making process or looking for a new flavor profile, kimchi might be your answer.  Add a generous helping of kimchi to diced cooked potatoes, adding more vinegar if needed.  Mix thoroughly and marvel at the new twist on the picnic classic!