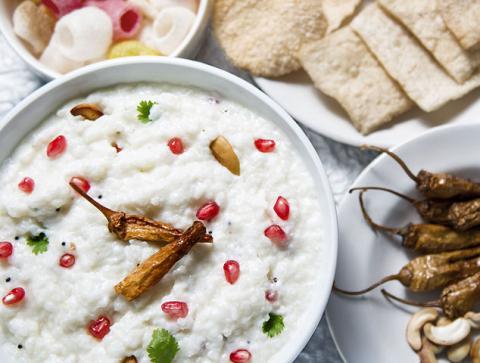 The next time your stomach's a little under the weather, or you've just been dining on too many calories and need a filling meal that gives you respite – you need to assemble just two main ingredients – curd and rice – and make a simple yet tasty dish, curd rice! Oh, and curd is just another name for yogurt!
The Benefits of Curd Rice
Before we give you the recipe, here are the whys of eating curd rice…
It's great for digestion: Easy to digest, the probiotics present in curd ease bloating and indigestion as the healthy bacteria makes gut flora healthy thereby easing any indigestion or abdominal pain.  
It cools the body, inside out: According to Ayurveda, curd is like a natural fire extinguisher and cools the pitta or the heat in the body. The next time you've overheated your system with rich food and spices, curd rice is the way to go.
It's a good weight loss aid: Curd rice is low on calories, especially when you compare it to the same amount of pilaf, risottos or even fried rice. It fills the stomach with the good stuff and becomes a great companion in case you are on the road to losing that stubborn belly fat.
It can help ease the stress: The healthier you eat, the more you equip your brain and body to deal with stress – and since curd contains probiotics, antioxidants, and healthy dairy fat – curd rice can help ease some of that virulent stress as well.
It increases your immunity: Since this is one easily-digested meal, it gives your body the energy to recover during an illness, plus the antioxidants in curd also help boost your immunity levels.
Curd Rice Recipe
2 cups pre-cooked, slightly overdone rice, drained
For the curd mixture:
2 cups curd/yogurt
1 cucumber, grated
2 green chilies, chopped (you can use one to lessen the heat or more to add some fieriness)
2 tbsp chopped cilantro/coriander (or parsley)
Salt to taste
For the tadka:
2 tbsp mustard oil
1 tsp split Bengal gram
10-12 curry leaves
½ tsp mustard seeds
A pinch of asafetida
1-inch piece of ginger, peeled and grated
Directions:
Beat the curd/yogurt till smooth and fold in the cucumber, green chilies, cilantro/coriander, and salt.
Add the rice to the curd mixture.
Heat the mustard oil till it smokes. Let it cool. Once cool, switch on the heat again but keep it on low. Add the split Bengal gram, curry leaves, mustard seeds, asafetida, and ginger till the spluttering stops. Add this tadka to the rice and curd mixture – stir once and dig in!
We hope you like this simple recipe and make it a frequent summer table occurrence. Feel free to add in some boiled, chopped veggies to make it more flavorful, and spice it up with some black pepper or oregano as per your taste. Namaste!
Photo By Sudharshan Shanmugasundaram - Own work, CC BY-SA 4.0, Link