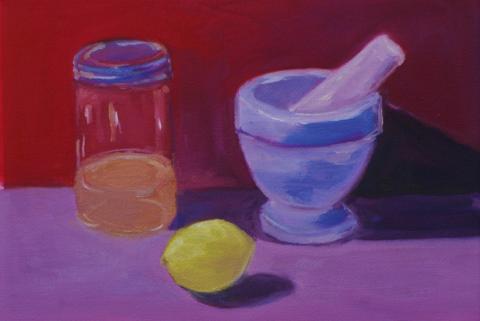 Need some beauteous help from nature? Try these really simple, but really effective masks that you can make with just two ingredients! Now, how cool is that?
Many a time we often end up using store-bought facemasks full of harsh and synthetic chemicals because, well, they are far more convenient that standing in the kitchen with a cornucopia of ingredients and wondering what to do with them! However, beauty from the kitchens doesn't have to be overly complicated or scientific in its measures. Natural ingredients have natural chemicals that over time, make the skin its healthiest and protect it from the harshness of synthetic and aggressive chemicals that may give the skin a temporary glow but strip it of its natural protective barriers and harm it in the long run.
The solution? How about really simple beauty masks that are gentle enough to be used on the face and effective enough to be used on the whole body – and can be made in a jiffy as well
To Perk Up The Skin
A wild night out, some days of roughhousing in nature, or just too much work can sometimes take the glow away from skin and make it appear dull, tired, and five years older. You need a mask that can vitalize the skin, maybe reduce the water retention (the puffiness) and breathe some much-needed life into your pores, literally. So here go two two-ingredient masks that do just that! You can use these once a week all over or just on the face as you prefer.
Skin Espresso: Mix 2 tablespoons of coffee grounds with 1 tablespoon of honey to form a rough paste. Apply onto a washed and dried face and keep on for 10 minutes. Scrub off and then wash off with cold water for a brighter visage.
Chocolate Smoothie: So you can use chocolate syrup or even chocolate powder. Mix enough lemon juice to form a sticky paste and apply onto skin for five minutes. Wash off for a brighter face.
To Deeply, Gently Moisturize
Winters, the rains, the climate or even just a bout of fever can leave your usually balanced skin devoid of hydration and moisture. No one feels pretty in the parched skin which you can literally write on ("parch"ment!). Instead of slathering on store bought body lotions and crèmes, here go two skin masks that can really hydrate your skin, and seal in some of that much-needed moisture as well!
Nuts For Coco: Pour a cup of coconut milk or crème and add in 2 tablespoons gram flour (besan). Mix well so that the paste is smooth. Rub this all over your body and massage in for 5 minutes, keep on for another 5 minutes, and then shower off. Try not to use soap in order to really keep the moisture in.
Fruit smoothie: Think of creamy fruits you use in smoothies – mango, papaya, bananas or even berries, and of course, strawberry. Puree any one fruit you like and mix 4 tablespoons olive or coconut oil in it. Use this goop to massage the skin all over and then keep on for another 10 minutes. Shower off for a lovely fruity-scented skin, incredible hydration and also a more youthful glow.
To Tighten & Fill In Fine Lines
Age, hormones, and even your periods can play havoc on normally happy skin. So sometimes, you wake up in the morning to a face that so tells its age, and sometimes goes a few years ahead, too. At this time you need masks that tighten the skin, moisturize and fill in those fine lines and give you back that youthful glow.
Aloe Vera Cream: All you need is aloe vera pulp (fresh is best but you can choose to buy preservative-free organic packs as well) and thick milk cream. Mix this in a 3:1 ratio and apply all over skin – focusing more on the parts that show your age – face, neck, décolleté, hands, feet, forearms and knees! Frankly, it's good enough to put on all over. Massage in for ten minutes and then shower off with a gentle bath gel.
Potato Boost: Puree a raw potato into a starchy goop and then add in 2-3 tablespoons sweet almond or virgin coconut oil. Use this to massage your skin for 10 minutes and then shower off with lukewarm water for noticeably smoother and younger skin.
To Deeply Cleanse & Restore
Sometimes too much makeup, dust, and pollution, or even one too many skin products can block the pores and add a layer of dullness to the skin. This is when you need masks that deep clean the skin and exfoliate the top layer to reveal younger and undamaged skin beneath.
Soda Pop: Mix baking soda (or even 4-5 aspirins) with just enough water to form a paste. Apply onto face, neck, hands, and feet as well as elbows and knees and keep on for 10 minutes. Wash off for smoother and blackhead-free skin! Moisturize with a light lotion afterward.
Sweet 'n' Sour: Mix 2 tablespoons honey with 1 tablespoon lemon juice and apply this onto clean skin on the same problem areas:  face, neck, hands, and feet as well as elbows and knees. Keep on for 10 minutes and then wash off with lukewarm water for noticeably brighter skin.
Just a note of caution: remember that all the ingredients we use from our kitchens may be natural but even natural ingredients are chemical in nature and can cause chemical reactions on the skin: namely, allergies. A bit of stinging with masks containing lemon or tomatoes or even baking soda and aspirin is okay and expected but if any of these feel uncomfortable on the skin, wash off immediately. And if you are already allergic to consuming any ingredient, never apply it topically either! Other than that, happy beauty and glowing skin to you!