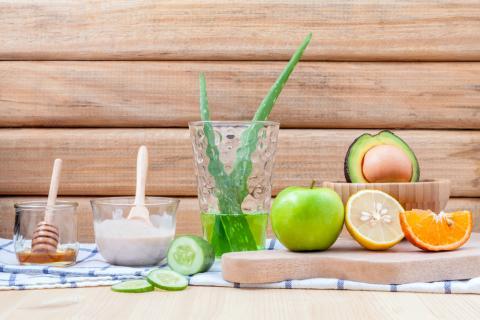 While we don't have a magic mirror who could call us "the most beautiful of them all," our daily visage tells us how we look clearly. In case all you see is a dull face staring back at you, here is some short-term and long-term help.
So the other morning, I went to drop my kids at their designated stop for the school bus after the (long!) vacations had ended. And a mother of another kid tells me, "Wow. What happened to you? You look so tired!" It got me thinking: why was I looking dull and tired? I counted the reasons and worked through the solutions as well. Here's my path to self-discovery -- hope it gives your skin a much-needed boost of vitality too.
My Skincare Routine Had Gone Poof!
I do have genetically blessed skin and reasonably good looks. So I am that girl you find in bed with makeup on, not running after beauty products and the least bothered about a "routine." Yeah, well in your 30s, this is such a bad idea. One reason why we get dull skin in our 30s is that the natural skin cycle of old cells dying, getting sloughed off and new cells taking their place, slows down. So there's a buildup of dead tissue on the surface of the skin, adding to that whole dull look and feel. So if you are heading to the big 30 or have already passed it – this is what you do need to do for your skin, so that it can look as young as you feel.
Makeup has to come off at night and there are no sneaky ways around this. Get the war paint off with a makeup remover, or do what I do: In a bottle, add equal amounts of rose water and virgin coconut or olive oil. Drop in 4-6 drops of your favorite essential oil (make sure it's safe for your skin!) for a fragrance and shake well. Shake the bottle well to mix the elements before every use, dab onto a cotton pad and wipe away. You can choose to wash your face with a little warm water or use an ubtan to clean up the oil, or just pat dry and leave it on.
You have to scrub away the dead cells once a week. Forget that bottled and tubed stuff for exfoliation – all you need to scrub away the dead skin can come from the kitchen shelves. To give your skin a little perk; mix in used coffee grounds with any kind of puree or paste. Think fresh cream, yogurt, fruit puree, gram flour paste, honey, organic mayonnaise (not kidding), chocolate sauce (not kidding again!) or just some olive or coconut oil. Use this to give your entire body a good scrub and have a warm shower after. In case you used the mayo, you might want to rinse off with castile soap (or hey, any flavored organic body wash you like).
Finally, dull skin can also be a sign of it needing moisture – which we tend to not use if the weather is hot or humid. A harsh sun or intense humidity may cause a sticky, sweaty feeling but in fact, this weather dries the skin as well. Remember to use a gentle organic moisturizer, and a sunscreen thereafter to truly protect your skin.
Help! I Need Some Makeup
At times there's the attack of the dull skin, just when you need to step out and look your best. Your friend in need and indeed, at times like these, is makeup. Namely, a good tinted BB/CC cream and a highlighter/blush. A BB/CC cream will even out splotchy complexion while a peachy-pink blush can bring life back into sallow cheeks. Top it off with a little mascara and you have a makeover…
My Lifestyle Needs To Be "Energetic" Too
A little too much stress, work or personal, can take the bounce out of your step and skin. Increasing cortisol levels, in turn, affects blood flow to the skin and skin repair as well. Learn to lower your stress to manageable levels and you'll have that luster back in no time.
Too much sleep or too little sleep – both can really affect your health and consequentially, skin health too. Get enough rest and go technology free evening onwards to get a restful sleep and a brighter visage.
No exercise coupled with environmental pollution can also take a toll on health and skin. With too many environmental toxins, the skin tends to get clogged up. Exercise makes you sweat through these blocked pores and flushes the skin, as well as improving blood circulation and other bodily processes.
The age-old saying of you are what you eat is very true, particularly when it comes to your skin. Excess of salt, sugar, oil and processed foods wreak havoc on cholesterol and skin so if you truly want your skin to glow, choose fresh fruits, plenty veggies, and lean meat.
Lastly, dehydrated skin can never glow. So make sure you drink plenty water to flush out the body and the skin of toxins and keep the internal hydration up where it should be.
Some basic lifestyle changes and a decent and hygienic skin care routine should see you through any dull skin phase. And if you follow a healthy life, dull skin will soon become a distant memory… Happy skin to you!