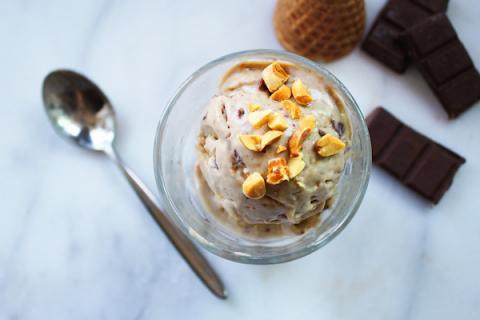 If you're looking for an easy way to have a delicious, healthy, homemade dessert, I've got the scoop for you. And although it's not exactly ice cream, its flavor lets it stand on its own. 
'Nice cream' is a cool, creamy, vegan treat that employs a trick the whole world should know about: bananas can transform into ice cream. The first time I pulsed frozen bananas in a food processor, I was surprised – and delighted – by the result: rich, perfectly sweet without any added sugar, and very much like ice cream. And, outside of the freezing time, the entire thing took about five minutes to put together. Pulsed bananas provide a base to which nuts, chocolate, and fruit blend beautifully. Today I'm sharing one of my favorite nice cream recipes, which, in addition to bananas, involves a little peanut butter, a hit of cinnamon bark essential oil, and chunks of dark chocolate.
A few prep notes: you'll need a strong food processor or blender to aerate the bananas. I prefer a food processor but once when I used a small one for this, it blew out; the larger version has worked without fail. Although frozen bananas can be challenging for some machines, they melt quickly.  It might take you a few times to get the texture you want, but the result will always be delicious.  As you pulse the bananas, you'll witness them transform into a soft serve like texture. If you're into that, as I am, serve immediately. However, if you'd like a more solid dessert, place the nice cream in the freezer for another three hours or more before serving.  
Although I still love good dairy products, there are many reasons I eat less of them these days. Even at the best ice cream shops and bakeries, I can't help but wonder what exactly I'm eating. If you're anything like me, your appetite has been diminished by stories about ultra-pasteurized milk, GMOs, pesticides, hormones, and the many mysterious ingredients on food labels that aren't actually foods. Or maybe you're one of the seemingly ever-growing crowd who doesn't digest dairy products well. And of course, there are the environmental concerns associated with dairy production. A recent study by an independent research company hired by an environmentally-friendly ice cream manufacturer found that one pint of their ice cream added up to two pounds of CO2 emissions into the atmosphere, equivalent to driving two miles in a medium sized car. Most of this number was due to the use of dairy ingredients, as opposed to packaging or manufacturing.
One of my oldest friends and I are bonded through food. It's been this way since we were girls. It was she who made me a raw milk alchemist.  With the help of a local dairy farmer, a stand mixer, and just a few sips of whisky, she taught me how to make ice cream. For most people, dairy's transformational powers are at once mysterious and awe-inspiring.  My friend and I keep our memories like jewels, but these days, more often than not, we opt for nice cream, and, dare I say, we're just as happy. 
Peanut Butter Chocolate Chip Nice Cream
Serves 6 (about 3 cups)
Ingredients
3 large ripe bananas
3 ½ tablespoons crunchy peanut butter
2 drops food grade cinnamon bark essential oil (or ½ teaspoon dried cinnamon)
¼ teaspoon fine sea salt
1 ½ ounces dark chocolate chips or chopped dark chocolate
chopped peanuts for garnish (optional)
Instructions
Peel and cut the bananas into coin-shaped pieces. Put the pieces in an airtight container and place in the freezer overnight, or for at least three hours.
When you're ready to assemble the ice cream, measure out the peanut butter in a glass or other non-reactive bowl. Add the cinnamon bark essential oil and mix well. (This step is to dilute the essential oil and prevent it from reacting to the plastic food processor bowl).
After the bananas are frozen, transfer them to a food processor or strong blender and pulse. While the bananas change texture from crumbly to smooth and creamy, you might need to scrape down the bowl periodically. The bananas should reach a creamy texture in about 1 minute.
Add the peanut butter/cinnamon bark essential oil mixture and sea salt to the bananas and pulse until well combined, about another 30 seconds. Transfer the mixture to a bowl, add the chocolate, and mix until combined. If you like a soft serve texture, serve immediately. If you prefer a more solid texture, transfer to an airtight container and freeze until solid (3 hours or more). Upon serving, top each portion with chopped peanuts, if desired.