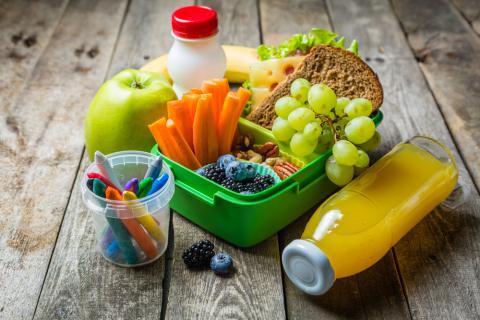 Back to the Roots is a Bay Area company founded in 2009 by then college seniors Alejandro Velez and Nikhil Arora. They chose to decline corporate job offers and initiate their startup after enjoying learning how to grow mushrooms from coffee grounds. A desire to explore urban and home-based farming and to make these experiences more accessible to all led them to develop ready-to-grow and ready-to-eat products, including their organic mushroom-growing kits, stoneground breakfast cereal and organic breakfast toppers. Their mantra and their goal is to "Undo Food" by reconnecting people transparently with the origins and ingredients of their own food and allowing them to experience its production.
"We believe in a future where all food comes from the kitchen, not a lab; and where R&D teams aren't biochemists, but our grandparents," reads a statement on the Back to the Roots website.
One of this innovative organization's most exciting endeavors has been to partner with Sodexo, a business which specializes in foodservice and is the largest such provider in North America. Together, starting in 2015, these two companies brought thousands of Garden Toolkits to public schools in the U.S. – enough to produce a half million pounds of food!
The hands-on toolkits include Back to the Roots Organic Mushroom Mini Farm, the Garden-in-a-Can (featuring organic basil and cilantro), and their popular Water Garden classroom aquaponics kit. The educational packages also come with a free curriculum to help teachers and youth explore and connect to the origins of their own produce.
A press release on the Sodexo site explains school groups can use part of their harvest for instructional purposes and then donate the remainder to local food banks. Sodexo serves almost 3 million school meals daily and plans to eventually also make these easy-to-use programs and supplies available at the universities, hospitals, and corporate offices they work with.
"The impact of the school gardening concept is undeniable, with some programs reporting increases on standardized testing and others citing more than 90 percent improvement in student engagement around gardening programs," says Sodexo Schools' Global Head of Marketing, Scott Loretan. He also points out that schools serving economically disadvantaged youth have previously had less access to these types of programs, an issue Sodexo and Back to the Roots are attempting to directly address through this collaboration serving "all students."
A focus on elevating the quality and availability of nutritious school food is a timely and important goal, with 13 million American children currently struggling with food insecurity. This is not Sodexo's first venture into confronting issues with youth food access in America—it has granted more than $25 million to address childhood hunger since 1999.
Back to the Roots is now selling its wares in over 14,000 stores, including Wegmans, Whole Foods Market, Target, and many others. Founders Nikhil and Alejandro's success as sustainably-minded entrepreneurs have earned them recognition from BusinessWeek, Inc., Forbes, CNN, and Martha Stewart. Nikhil and Alejandro were also recognized by President Obama as Champions of Change.
Sodexo is also bringing Back to the Roots Organic Stoneground Flakes healthy breakfast cereals into schools. These are referred to as 100 percent stoneground because they keep the whole grain intact and use only non-GMO, identity preserved, U.S.-grown, organic grains. In September 2017, the founders were featured on The Today Show, discussing how their breakfast cereals are now helping to feed over 1 million students in NYC Public Schools. They say, "The most fun piece of this is seeing the spark of curiosity about food. For us, to be part of that solution is amazing."
You can keep up-to-date with Back to the Roots' latest products and initiatives on Facebook.