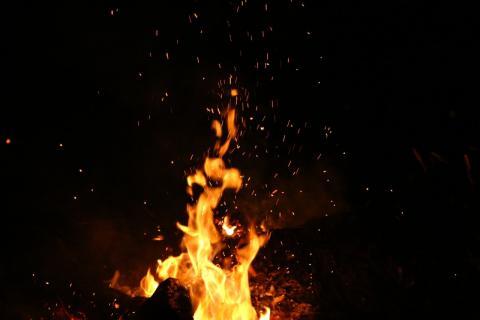 Bloated. Puffy. Stuffy. Stiff. Tired. Stressed. Sore.
Inflammation is generally perceived as a negative symptom or feeling, but not all inflammation is "bad." Inflammation is the body's way of responding to stimuli in the environment, which can be either physical—infections, toxins, or injury—or psychological—stress and trauma. "Good" inflammation is swelling or reactive pain that serves to protect the body from these types of stimuli in some manner. Inflammation becomes a problem when it is chronic—that is, when it has gone unmanaged and untreated for so long that it is difficult to alleviate. Ayurvedic principles for treating inflammation are gaining traction within the world of naturopathic health, and now's the time to jump on board the anti-inflammation steam engine…especially during the indulgent holiday season.
Inflammation can be localized or pervasive, and generally coincides with swelling, redness, and hot and painful sensations as a physiological reaction to infection, injury, toxins, or trauma. According to Ayurvedic philosophy, inflammation is a manifestation of a particular set of pitta-type emotions we all feel: anger, aggression, judgment, frustration, disappointment, and ego, or competitiveness. The Pitta dosha—one of the three energies dictating the functioning of our body systems—is associated with the fire element and responsible for many functions that keep our body fire stoked to the right degree. When this fire element, the Pitta dosha, falls out of balance, it commonly manifests as inflammation in the body. Inflammation could occur in the muscles, joints, organs, or skin, and can be a result of any number of factors affecting one's doshic balance.
To understand how to manage inflammation in Ayurvedic terms, it is most important to understand the role of the Pitta dosha, remembering that it is just one of the tri-doshic energies constantly in flux. Pitta responds to the Kapha and Vata doshas, which coincide more or less with the environmental conditions (seasons) as they are changing around us. (Read more about the doshas, and take a quiz to understand your personal doshic balance!)
The Pitta dosha serves a transformative role in the body within the small intestine, stomach, liver, spleen, pancreas, blood, eyes, and sweat, and dictates:
Digestion, absorption, and assimilation of nutrients
Metabolism
Appetite and thirst (which is regulated by the release of hormones in the pituitary gland which also control sex drive and sleep patterns)
Body temperature (by circulation of blood)
Visual perception, cognition, reasoning, and understanding—intellect and concentration
The Ayurveda Experience provides a list of pitta-aggravating foods to avoid, noting that hot and spicy foods further aggravate the fire dosha. Step back and think of your body as a wood stove: put too little fuel into the stove, and you have no fire (too little of the Vata air element, or too much of the Kapha water element); put too much fuel into the stove, and you have an over-fire (too much of the Pitta fire element). Hot, spicy foods perpetuate the heat causing inflammation in the body, as do fatty, fried foods and salty, sour and pungent foods. When one consumes these types of foods, the body has to work harder than it already is to regulate temperature, to digest, and to damp down the fire that has been stoked too hot. To "damp down" the Pitta element, avoid the following foods:
ALL coffee
Oils: peanut, sesame, safflower, almond
Sesame-based food items
Fermented foods: vinegar-based items such as kombucha
Nightshades: tomatoes, peppers, eggplants, white potatoes
Red meat
Refined grains
Citrus fruits (except lime)
Allergenic foods such as gluten, soy, dairy, eggs, shellfish, nuts
To facilitate a more balanced Pitta, and enter that ideal "burn zone" where the Pitta fire element is burning smooth and easy, include the following foods in your diet:
Try out some of these Ayurvedic methods to support a more balanced Pitta: