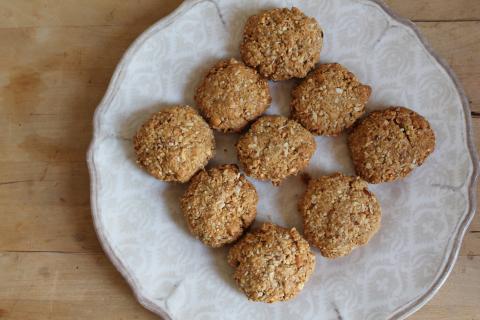 I am a peanut butter monster! I don't even want to think about the amount of money I've spent on plain, crunchy peanut butter in the past year. It must be in the hundreds though. I always have a good ol' jar of PB on hand. Recently, I was craving cookies but didn't have very much in my cupboard. I had a whole whack of shredded coconut and of course my trusty peanut butter…so I decided to make peanut butter macaroons, because what is better than that, seriously…
I've had macaroons on the mind lately. Every spring when we have our Passover dinner, my Bubbi puts together a tray of vanilla and chocolate macaroons. They're soft, flaky, sweet, and super coconut-y (on Passover we don't eat anything that has been leavened, which is why we eat flourless cake, matzo crackers, and macaroons). The second she sets that tray down, I totally inhale those macaroons like it's my job. They're just so good and having tasted the best macaroons in the world…I know what I'm aiming for with my healthy, peanut butter version. 
This recipe has been with me for awhile, ever since I started to cut down on grains/refined sugar and adopt a healthier diet. I've made basically every possible version of these macaroons, but these peanut butter ones are definitely the best batch yet.
The great thing about these cookies is that there's basically only 4 ingredients. Yes, you read that right! There's also no refined sugar, no gluten, no soy, no…weird stuff—only whole, plant-based ingredients. So even though these macaroons are high in calories, they won't leave you feeling guilty if you "accidentally" eat too many.
Feel free to double the recipe and make your daily snack for the week! Pop a couple cookies in a bag and you have a high protein, low sugar snack when you need it! If you're not feeling the peanut butter, this recipe is very flexible depending on which flavors you prefer. You can replace the peanut butter with almond butter and add in chocolate chips for a classic chocolate chip macaroon. You can also try adding lemon zest, vanilla or cocoa powder. The sky's the limit!
Peanut Butter Coconut Macaroons
Ingredients
1/2 cup almond flour
1/2 cup shredded coconut flakes
3 tablespoons honey
2 1/2 tablespoons natural peanut butter
Instructions
1. Mix together the coconut flakes and almond flour in a large bowl. (I like to make my own almond flour by grinding whole, raw almonds in a coffee grinder).
2. Add in the natural peanut butter and honey (you can also use coconut syrup, date syrup, agave, etc.—any syrup will do). Mix together thoroughly with your hands until thick and doughy.
3. Form into cookie shapes about the size of a ping-pong ball and place onto a baking sheet lined with parchment paper.
4. Bake at 300F for 15 minutes, or until golden brown on the bottom. Allow to cool. Makes 9 cookies.